Sun deals Sparc boxes, x64 iron
The sound of silence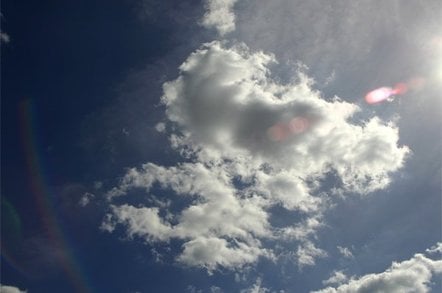 On the verge of being eaten by Oracle, Sun Microsystems has been unusually - but understandably - quiet on the marketing and announcement front. But that doesn't mean Sun is not wheeling and dealing and tweaking its server lineup as technology moves forward. It apparently just means Sun is not paying for public relations any more.
Sun's high-end Sparc64 servers are under attack by IBM and Hewlett-Packard because the uncertainty of Sun's hardware future has been exacerbated, not settled, by the Oracle deal. To help goose sales of its big iron boxes - or more precisely, the Fujitsu big iron boxes that have Sun's labels slapped on them) - Sun is offering customers a trade-in and upgrade deal.
If you upgrade from Sun Sparc boxes or competitive Unix platforms to a Sparc Enterprise M8000 or M9000 machine using the latest quad-core 2.52 GHz Sparc64-VII processors, you get the chassis for free (which saves you up to $600,000, apparently) as well as a 20 per cent trade-in allowance. The deal runs to September 30.
The Sparc Enterprise M8000 is a single-chassis machine that has up to 16 processor sockets, supporting dual-core Sparc64-VI chips running at 2.28 GHz or 2.4 GHz and quad-core Sparc64-VII chips running at 2.52 GHz. The M9000 can support up to 32 processor sockets in the one-chassis version and up to 64 sockets in a two-chassis version.
Presumably, the $600,000 value in the deal above refers to the two-chassis box. Neither Sun nor Fujitsu provide public pricing for the M8000 and M9000 machines, so it is hard to say what per cent of the total value of a system this free chassis represents. Sun and Fujitsu haven't run benchmark tests with pricing information using Sparc iron for many, many years, so we can't back into the data that way either.
Sun also has a double upgrade promotion aimed specifically at shops using its UltraSparc-III Sun Enterprise line, which dates from 2001, and its UltraSparc-IV Sun Fire line, which dates from 2004. The suggested upgrade paths for old to new servers can be found here, and the deal offers customers a 20 per cent "promotional allowance" (Sun is apparently allergic to saying discount, or this is some kind of credit good toward the purchase of other Sun products or services). This deal runs out on September 30 as well.
The company is also offering a bunch of different deals - which you can see here - that give customers upgrading to smaller Enterprise M machines (using either dual-core Sparc64-VI or quad-core Sparc64-VII processors) a 15 per cent discount. Customers moving to Sun's "Galaxy" line of x64 servers from other x64 boxes can get 15 per cent lopped off the top, and those moving to the current "Niagara" line of Sparc T multithreaded machines can get a 20 per cent price chop no matter what box they come from. Sun's discounts on its Sparc T or x64 blade servers are a less impressive 10 per cent.
Of course, these are the official discounts. Actual discounting - given the state of the economy, Sun's key financial services customer base, and uncertainty about the company's hardware plans - is probably a lot lower, contributing mightily to Sun's dismal fourth quarter results, which the company previewed a few weeks ago and will report officially when it gets around to it. (Sun has not said when it will report its Q4 and fiscal 2009 financials, except that it is required by law to do so on or before August 31).
On the x64 front, Sun is previewing its Sun Fire X4640 server in the Galaxy line, which will support the new six-core "Istanbul" Opteron processors and which is a kicker to the existing X4600 M2 server. The X4640 preview, which you can see here, puts the Opteron 8400 series processors on uniboard-style processor cards that in this case puts a single Opteron chip and its memory on a card and then allows from two to eight of these card to be put into a single system image for Solaris, Linux, or Windows to play with. The X4640 cards have eight DDR2 memory slots each, for a maximum of 64 slots per server and 512 GB of main memory using 8 GB memory sticks.
Sun will be supporting the 2.4 GHz Opteron 8431 and 2.6 GHz Opteron 8435 chips in the X4640. These chips were the only 8400 series chips in the original Istanbul launch on June 1. Sun's preview does not mention support for faster and cooler Istanbuls that came out on July 13 or the super-cool energy efficient ones that are due later this quarter, but there is no technical reason why these chips cannot be snapped into the X4640. The X4640 server has room for four 2.5-inch SAS disks, four Gigabit Ethernet ports, and eight peripheral slots (six PCI-Express and two PCI-X).
Sun has also shifted some of its Sun Fire rack and blade servers from quad-core "Shanghai" to six-core Istanbul machines.
The two-socket X4140 rack server - a 1U box supporting up to 128 GB of memory - now comes configured with 2.2 GHz Opteron 2427, 2.4 GHz Opteron 2431, and 2.6 GHz Opteron 2435 Istanbuls. A base X4140 with a single 2.2 GHz Istanbul, 8 GB of memory and no disks costs $2,934. A heavy configuration with two 2.6 GHz processors, 8 GB of memory, and four 300 GB SATA disks costs $8,518. The X4240, which is a 2U version of essentially the same box that supports up to 16 disks instead of the eight drives in the 1U chassis, is also sold with the same Istanbuls mentioned above. With a single 2.2 GHz processor, 8 GB of memory, and no disk, the base X4240 costs $3,534; a heavier machine with two 2.6 GHz Istanbuls, 8 GB of memory, and four disks costs $9,118.
This machine's fatter sibling, X4540 weighing in at 4U of space, has room for 48 2.5-inch SATA disks and is really designed to be a storage server. With two 2.6 GHz Istanbuls, 32 GB of memory, and the full 48 TB of disk capacity, the X4540 costs $47,995.
Sun's four-socket Opteron rack server, the X4440, now sports the six-core Opterons as well. The X4440 is a 2U rack box that supports up to 256 GB of memory and has room for eight disks. It has a base price of $10,365 with two Opteron 8431 chips running at 2.4 GHz with 16 GB of memory and no disks, scaling up to $25,461 for a 24-core machine using 2.6 GHz Opteron 8435s with 16 GB of memory and eight 300 GB disks.
Finally, the Istanbul chips have made their way into the two-socket Sun Blade X6240 blade server, which supports up to 128 GB of memory, and the four-socket X6440 blade, which supports up to 256 GB of memory. A Sun Blade 6000 chassis with a single X6240 blade costs $19,278, with the blade server being $3,328 of that. A Sun Blade 6048 chassis with a single X6440 blade costs $81,399. The blade appears to cost $18,150 of that. The exact configuration of either blade in those bundles is not clear from Sun's site. ®