Qnap TS-219P Turbo Nas
A box of delights?
Review There are two main criticisms that can be levelled at Qnap's TS-209 range of Nas boxes: they have poor file transfer speeds and poor access to the hard drives. The TS-219P tackles those issues head on with a faster 1.2GHz Marvell processor, compared with a 500MHz Marvell chip in the TS-209P, and sensible hot-swappable bays.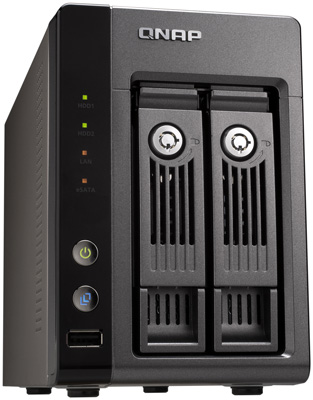 Qnap's TS-219P Turbo Nas
There are no hard drives supplied with this twin bay Nas box, so you'll need to screw your chosen Sata hard drives to the hard drive caddy that includes screws and fittings for both 3.5in and, pleasingly, 2.5in drives too. Unlike the TS-209, there's no faceplate nonsense covering the hard drives, however, it's not as pretty as a TS-209. The TS-219P goes for more of a server look like Netgear's ReadyNas range and is very sturdily built.
The hot-swappable caddies have a thick lever and a lock on the front. There are also four LEDs – two for hard drive status, one for eSata and one for Lan – that change colour so you can diagnose potential problems.
An built-in speaker can also signal potential problems, although an LCD panel – present on many other Nas boxes – would be better for solving problems. A USB port joins the party on the front, while two USB ports, two eSata ports, a Lan port and the power connector, alas featuring an external power brick, can be found on the rear.
Scheduled backup, Nas finder and bittorrent software is all included on a CD. Each does its job admirably, although the bittorrent software has uPnP Nat port forwarding disabled by default. You'll need to enable that if you want to avoid configuring port forwarding on your router. Bittorrent files can be started on the Nas from the client or by dragging and dropping a torrent file onto a widget called Qget that floats around the desktop.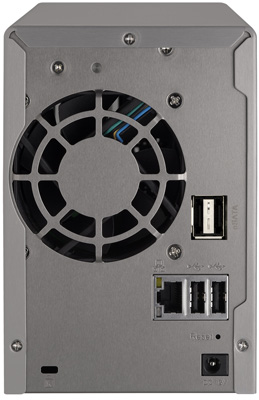 eSata and USB ports allow storage expansion
Head into the web configuration pages and you'll be presented with a slick coverflow-like interface – part of Qnap's new ajax-powered v3 firmware – where the web file manager, main setup pages and the Multimedia Station reside. The Multimedia Station enables access to videos, photos and music with a browser, with the slideshow mode option being a particularly impressive party trick.