NASA announces $1.5m prize for eco-plane inventors
Flying machines go green diddly green green
US space agency NASA has announced a competition for green aircraft designers, in which low-carbon flying machines will contend for a $1.5m prize at a contest to be held in California in two years' time.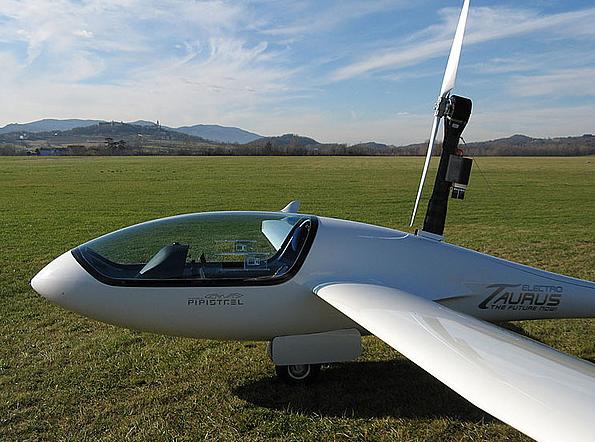 You didn't want that flying car, did you? Have an electric plane (well, glider) instead.
The compo is to be run by NASA's usual light-aircraft collaborator organisation, the Comparative Aircraft Flight Efficiency (CAFE) Foundation. It will be known as the CAFE Green Flight Challenge (CGFC), and competing aircraft will be assessed in flight trials to take place at the Charles M Schulz Sonoma County Airport in Santa Rosa, California, in July 2011.
CAFE and NASA were formerly involved in attempts to develop so-called Personal Air Vehicles (PAVs), basically the closest approach to flying cars that might be realistically achievable. A fully-developed PAV wouldn't be a Jetsons aircar: rather it would be a normal light plane with several important enhancements. These would include cheapness, quiet operation, short takeoff run, perhaps the ability to fold wings and drive on roads, and an almost hands-off autopilot/air-traffic system allowing the PAV to be flown by people with no more training than car drivers.
NASA even had its own PAV programme until 2005, but then funds were cut and the idea was downgraded to a competition run by CAFE with NASA supplying modest $250k prize money. This wasn't enough for anyone to do any serious development work, and the PAV competition attracted nothing more than some mildly-tweaked motor-gliders, old Cessnas and the like.
But the notion of flying cars has been thoroughly eclipsed in the popular mind by the concept of green low-carbon ones - as witness the now almost constant flow of electric car coverage in the tech press. Last year the PAV contest changed into a General Aviation Technology Challenge, with a Green Prize.
Sponsored: Practical tips for Office 365 tenant-to-tenant migration