Volvo opens e-car kimono
More than an evaluation mule
Leccy Tech Volvo has shed more light on its electric car plans, revealing that a wholly battery-powered version of the C30 three-door coupe will launch in 2012.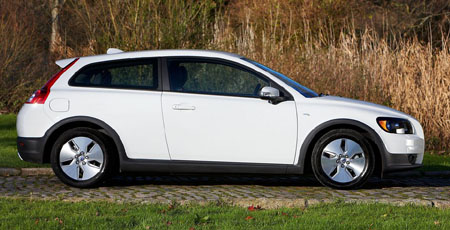 A battery-powered version of Volvo's existing C30 (above) is set for 2012
Speaking to Register Hardware at the recent UK launch of its latest C30, S40 and V50 DRIVe models, the company said the electric C30 – no official name yet - will not feature the in-wheel motors seen on its 2007 C30 ReCharge hybrid concept car.
Technical details are still scarce, but Volvo stressed that the electric C30 is far from an evaluation mule. It sees the car as a proper development prototype.
The Swedish car maker also told us that the upcoming plug-in hybrid vehicle – announced in June, and based on the V70 estate - will be available to buy across Europe from 2012.
Volvo appears to be investing much time and effort into engine development. It thinks improvements in the economy of its internal combustion engines and the development of plug-in electric hybrid technology are two sides of the same coin.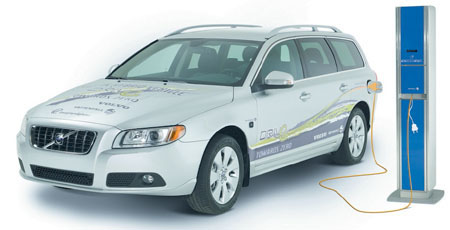 Why? Because its engines should be capable of providing the maximum possible economy and efficiency whether running on petrol, electricity or a combination.
Volvo's thinking is straightforward, as there's no point developing a hybrid car, plug-in or otherwise, if the engine isn't as efficient as possible - a marker that Volvo said neither Honda nor Toyota are yet to achieve in their existing hybrid cars.
During the launch Volvo argued that closed-cycle hybrids, such as Toyota's Prius, are a technological dead-end because the same economy benefits can be more easily obtained using high-efficiency diesel engines.
The 2012 plug-in hybrid will still be based on a diesel V70 platform. But reading between the lines we deduce that plug-in hybrid versions of the 1.6 diesel DRIVe S40 saloon and V50 estate aren't too far behind. ®