12 of the best... travel gadgets
Don't leave town without them
Aquapac Waterpoof Camera Case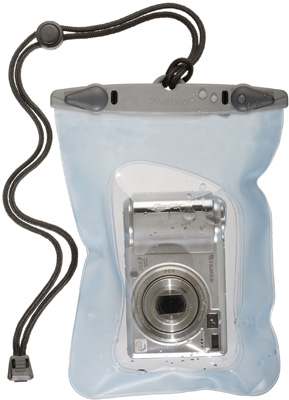 If your only opportunity to take pics under the sea comes twice a year then a fully waterproof camera is probably over egging the pudding. Especially when, for twenty-five quid, Aquapac will sell you a fancy plastic bag into which you slide your compact camera and get the same end result. Lacking easy access to the crystal clear waters of the Caribbean and not wanting to get arrested at the local swimming pool, we stuck our trusty old – and expendable – Nikon Coolpix 2200 in the bag and filled the bath.
Not only did everything stay dry, but we had no problems using all the camera's buttons or the optical zoom. Aquapac also thoughtfully bundle half a dozen packets of desiccant to get rid of any rogue condensation. Picture quality didn't seem to suffer too badly from the consequences of taking photos through a layer of plastic. However, if you do come over all Lord Lichfield, Aquapac also makes a version with a hard acrylic 'lens' built into the bag. Incidentally, it also makes a rather handy all-purpose water and dust proof bag for your phone or MP3 player.
Reg Rating 90%
Price £25
More Info Aquapac
Franklin TGA-490 12 Language Speaking Dictionary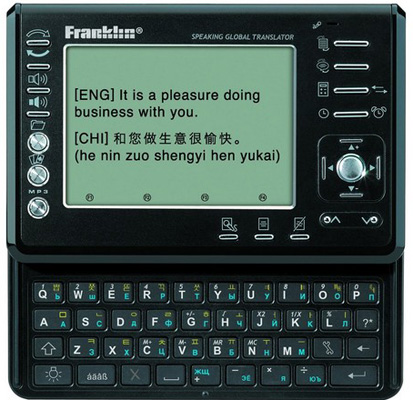 Phrase books are all well and good if you have some idea how to pronounce the local lingo, but stray into Russian, Japanese or Korean and things get more complicated. That's where the Franklin comes in. Not only will it translate words and phrases on-screen – in both the original alphabet and Roman – but it will speak them too. Translations can be made from either single words or from a pretty large selection of pre-loaded phrases although we didn't manage to find "Where is the toilet?" during our test.
The list of supported languages runs to French, German, Italian, Spanish, Portuguese, Dutch, Polish, Russian, Chinese, Korean and Japanese which isn't bad though with Thai and Hungarian – oh, oh, my nipples explode with delight! – being two obvious omissions. While the phrases played are clear enough, they are just a little on the fast side. The 490 also doubles up as an MP3 player and voice memo recorder and has a 2.5mm headphone jack so you can sit in the corner repeating foreign phrases too yourself until someone calls the police and they drag you away. Not cheap, but useful for frequent travellers who find themselves in Tokyo on Monday, Seoul on Wednesday and Lisbon on Friday.
Reg Rating 80%
Price £200
More Info Franklin
Sponsored: Becoming a Pragmatic Security Leader