Dell Inspiron Mini 10
Hi-res display netbook, anyone?
Review Dell's cheap and cheerful Mini 10v is a firm favourite here at Vulture Central but some potential customers are doubtless more interested in capability and functionality rather than absolute economy. So, with that in mind, we thought it wise to take a quick gander at the top end of Dell's netbook offering, the Mini 10 complete with all the trimmings, almost.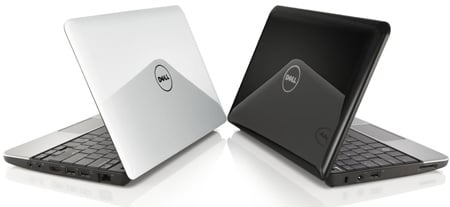 Dell's Inspiron Mini 10
Externally, the only difference between the 10 and the 10v is the flush fitting screen cover. Aesthetically it makes little difference but it does mean that wiping the screen clean is easier so for that reason alone we will count it as an improvement. Everything else – the size, the weight, the keyboard, the daft sticky-out SD card slot, the rather bulbous 6-cell battery housing, the one piece track pad and click bar, the lack of easy access to the memory slot – is identical to the 10v so we won't bother repeating ourselves, just take a shufti at the 10v write up.
It's only inside that things start to differ. The Mini 10 is available with Intel's low power Z series Atom processor rather than the N series used in the 10v. To be precise, you can have your Mini 10 with either a 1.33GHz Z520 or a 1.6GHz Z530 chip. Both come with a 533MHz FSB, 512KB L2 cache and 1GB of DDR 2 memory and the only operating system on offer is Windows XP. As you would expect, the graphics are handled by the integrated Intel GMA 500.
Wireless connectivity supports 802.11b/g Wi-Fi. As with the 10v, to upgrade to 802.11n you'll need to cough up an extra tenner. On the plus side the 10 ships with Bluetooth 2.1+EDR, as standard. The only hard drive on offer is a 160GB 5,400RPM SATA HDD – even though the technical spec on the Dell web site lists a 250GB unit as an option, this doesn't appear when you come to 'build' your machine.
The first and obvious difference between the 10 and the 10v – and just about any other netbook for that matter – is the screen resolution. Take one look at the Mini 10's 10.1in screen and its pretty obvious you are not in Kansas any more, because at 1366 x 768 the Mini 10's screen has the same glorious resolution and perfect 16:9 ratio as Dell's current grown up Inspiron 15 range and is equally bright, crisp and colourful.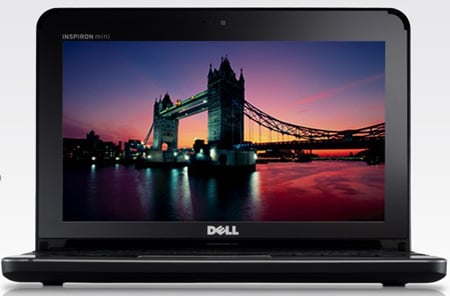 The 10.1in screen delivers a vibrant, high resolution, 16:9 image
Not only does the higher than the netbook norm resolution mean you get to see web pages in their entirety – which, as a benefit, speaks for itself – but it also renders video with a clarity you just don't get on 1024x600 – or 1024x576 in Dell's case – machines.