Elgato EyeTV Sat
Good reception for updated desktop satellite DVR?
As an alternative, Elgato provides a one-year subscription to the online TVTV guide, which can be used from within EyeTV or Terratec's Home Cinema to schedule recordings – including 'series-recordings' of all the episodes of a particular programme.
It doesn't list details of every single Freesat channel either – though all the main BBC and commercial channels are there. So if you want the full Freesat guide in order to record more obscure channels such as Create And Craft or Controversial TV then you might prefer an approved Freesat recorder from the likes of Humax. And while we had no problems with the BBC HD channel, the EyeTV Sat is also a little unpredictable in its handling of ITV HD broadcasts. These broadcasts are a 'red button' option on the standard ITV channel, rather than a separate channel like BBC HD.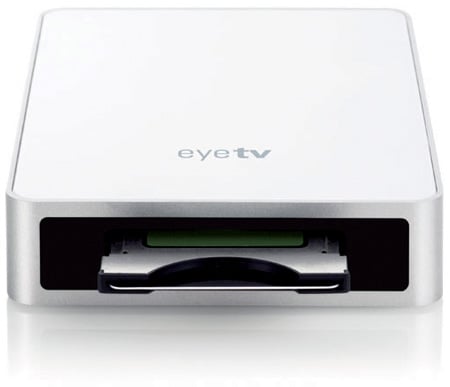 The card slot offers satellite pay-TV options
The EyeTV Sat doesn't support the 'red button' option, so we had to go looking on the Internet to locate the frequency of ITV HD broadcasts and then search through the list of available frequencies in the EyeTV software in order to track down those broadcasts. That's no great loss given ITV's current half-hearted dabblings in HD, but might become more of an issue in the future as Freesat starts to add more HD channels.
Verdict
The EyeTV Sat's inability to use the official Freesat EPG and its somewhat erratic handling of ITV HD means that it can't be recommended as a fully-functional replacement for a dedicated Freesat recorder. However, if you're keen to pick up BBC HD broadcasts or some of its top-drawer sports events, then you might well feel that it's an affordable stop-gap solution while we wait for HD broadcasting to really take off here in the UK. ®
More TV Recorder Reviews...

Digital Vision
GiGo DV-DTR1

Humax Foxsat-HDR

SiliconDust
HDHomeRun

Emtec
Movie Cube S800
Sponsored: Detecting cyber attacks as a small to medium business

Elgato EyeTV Sat
Easy Freesat TV on your Mac or PC, but not quite ready to replace an 'official' Freesat DVR.