Toshiba TG01 smartphone
A load of Tosh?
Video will record in either 3GP or MPEG4 formats at up to 640x480 pixel resolution for up to ten minutes. It takes a couple of seconds to start up though, which is a pain, as is the jingling noise it makes when you start recording. You can disable this, but why have it in the first place? There's also a basic VideoEditor, which allows you to cut bits out of your clips, add music, voiceover or text.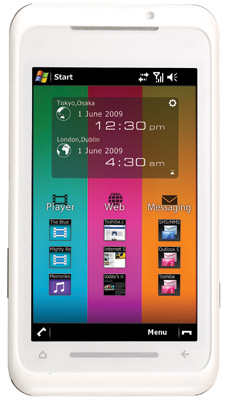 Also available in white
There's A-GPS on board and our sample came with Orange Maps, which is okay, but a little basic compared to Google Maps, which we ended up downloading and using without any problems. For such a large handset, the battery is surprisingly small. Toshiba says it should give you up to four hours of talktime and 220 hours of standby, but we managed barely a day of fairly moderate use, which suggests that if you want to get busy with some browsing and listening to music on the way to work, you might not make it through the day.
Verdict
The size and layout of the Toshiba TG01 take a bit of getting used to, and its good points include that huge screen, wafer thin profile and high functionality count. The trouble is, it's just not that easy to use, from the unresponsive touch screen to the jerky zoom bar and shallow UI skin that drops you into the fiddly Windows Mobile menus all too soon, it seems like a handset that's not quite finished. Full marks to Tosh for trying something different, and perhaps the next version will be better, but for now it's more of an interesting curiosity, than a must-have mobile. ®
More Smartphone Reviews...
| | | | |
| --- | --- | --- | --- |
| HTC Snap | Nokia N97 | Acer Tempo F900 | HTC Touch Pro 2 |

Toshiba TG01 smartphone
It's big and it's thin and fast, but it can be a bugger to use.