Toshiba TG01 smartphone
A load of Tosh?
There are lots of options for optimising video playback, including stretching the film to fit the screen but, despite the supposedly fast processing speed, we did find videos seizing up on us occasionally. Also, the highly reflective screen wasn't as sharp or as detailed as we'd seen on other phones, such as the Samsung i8910's OLED version, or even the Apple iPhone 3GS.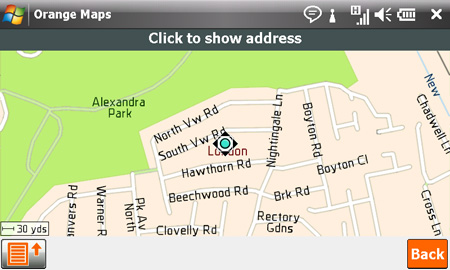 Orange Maps gets you there, but lacks sophistication
The format capability is fairly broad, with MP3, AAC, AAC+, eAAC+, AMR-NB, WMA, MIDI and SP-MIDI for audio, plus H.263, H.264, 3GP, MPEG4 and WMV for video. Both WMP and CorePlayer can handle music playing duties, though the supplied headphones suffered from a fairly narrow dynamic range and excessive sibilance in the higher register.
There's no 3.5mm headphone socket on the phone itself, but it does come with an adaptor for the micro USB slot, which gets around the issue effectively, if not particularly elegantly. Alternatively, there is a stereo Bluetooth option for wireless headphones.
3D gaming is available for the TG01 and there's a sample racing game supplied called Need For Speed Undercover. It looked quite decent in full screen mode, though we were disappointed that we had to use onscreen controls to turn our car rather than the accelerometer. With 512MB of on-board storage, the TG01 also comes with an 8GB microSD card – very handy.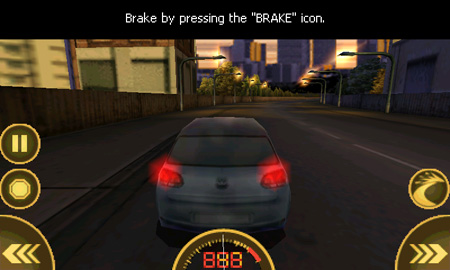 Gaming
The camera has no flash, but there is autofocus. It's very slow to start up, at around five seconds, which makes it less than ideal for spontaneous snapshots. There are options for multishot (fixed at nine shots at slowish one-second intervals), timer (up to 15 seconds) and digital zoom (which doesn't work on the full 2048x1536-pixel resolution). Pictures tend to err on the fuzzy side, and we found it hard to get any sharp detailing.