Toshiba TG01 smartphone
A load of Tosh?
Now, on to the good points. Call quality is perfectly fine and we like that Windows Mobile trick where it anticipates the number as you're dialling. The onscreen keyboard is a decent size, especially in landscape mode, when it stretches out to fill the screen and, in both portrait and landscape modes, it posed no problems.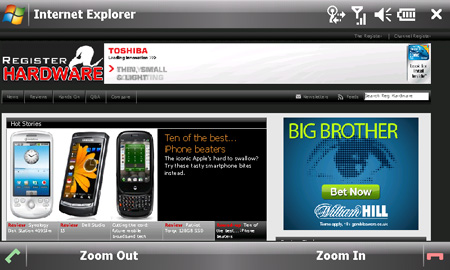 Browsing supports landscape mode
Messaging comes easy too. Setting up a POP3 email account was straightforward enough; simply a matter of inputting email address and password. There's also a MyText option of pre-written short messages which you can edit or add to. Syncing with a Windows PC is also a breeze.
While there's no preloaded Opera browser, surfing with Internet Explorer 6 began well, with the large screen showing off pages nicely, especially in landscape mode, which the TG01's accelerometer switches to automatically when you turn it on its side. You can choose between mobile and desktop viewing options and zoom in or out using the touch sensitive zoom bar beneath the screen.
Unfortunately, while this works in a similar way to the one on the HTC Touch Diamond2, it's nowhere near as user friendly; operating in a jerky manner that only highlights the HTC's comparative smoothness. It can't blow pages up to any great size either, which became a bit of an issue with very small text. Another issue was that we found we had to disable the screen's automatic brightness settings, as it tended to dim the screen, making it awkward to read small text. Resorting to this measure certainly didn't help the battery life.
Browsing supports Flash video, but watching Youtube, for instance, ended up being much more hassle than it should have been. It proved near impossible to set the viewing window to the right size for the screen, and the jumpy zoom bar made a bit of a hash of trying to get it right.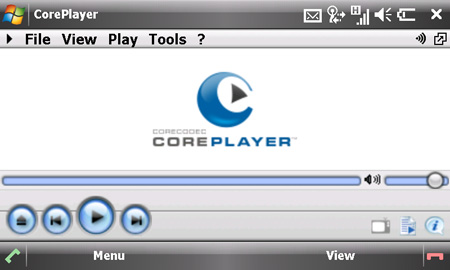 Three players are available with CorePlayer proving the best of the bunch
Watching video downloads wasn't quite the cinematic experience we were hoping for either. There are three player options: Windows Media Player, CorePlayer and a 'Video Player'. CorePlayer seemed most adept at handling different formats – it coped with some files that the other two failed to recognise – and it has a good range of features, including an inbuilt YouTube function, which optimises the site's videos for the device, though it's not as good as the YouTube app on HTC's devices.