Toshiba TG01 smartphone
A load of Tosh?
The TG01 runs on the Windows Mobile 6.1 Professional OS, but as with most modern WinMo handsets, Toshiba has installed its own distinctive user-friendly skin on top. The Toshiba Today page includes eight 'stripes' with room for up to ten widgets in each – phone, settings, applications, internet, messaging, media, files and tools. Three stripes are displayed at any one time and you brush the screen sideways to access the others.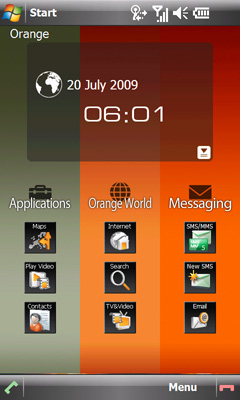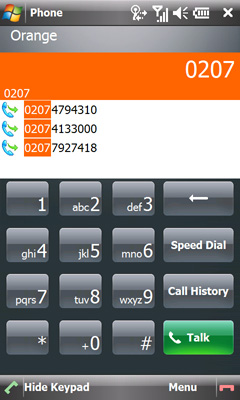 Toshiba's stripy skin user interface
Orange has the TG01 exclusively for now, and offers its own alternative home screen with widgets appearing as a scrolling bar to the left of the screen – you can brush your finger along the screen to scroll through them, or press them directly. Call start and end buttons appear at the bottom of the screen in both modes, along with two programmable soft keys.
So far, so good. There is, however, a clue to the TG01's Achilles heel in the box. Toshiba has included a stylus, despite saying that it won't be needed. While you won't need the stylus for most of the top-line navigation, featuring thumb-friendly widgets, you will need it once you get into the Windows Mobile menus, lying just below the surface.
The resistive touchscreen could also do with being a bit more sensitive, and more than a few times, we abandoned the theory of thumb-touch access in favour of the precision reality of the stylus. It's a shame, but post-iPhone, we expect touch screens to just work, without the need for any cajoling.
The TG01 is blessed with a meaty Qualcomm Snapdragon 1GHz processor – the most powerful we've yet seen on a handset, backed by 256MB Ram. Now, a 1GHz processor seems like a pretty impressive statistic on a handset but, to be honest, we didn't really feel the difference.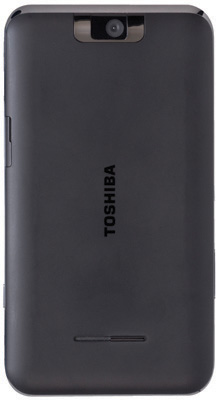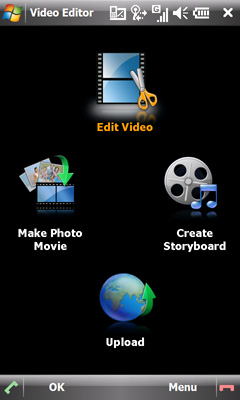 Just a 3Mp camera but features on-board video editing
True, it didn't lag as badly as some WinMo handsets, the Acer M900 being an especially bad recent offender, but you still don't get the feeling that it zips easily between applications, and each one takes a couple of easy-going seconds to start up. It's not bad, but it's certainly not as big a difference as we were hoping for.