ARM doesn't lose self and leg
But Q2 profits slump 26%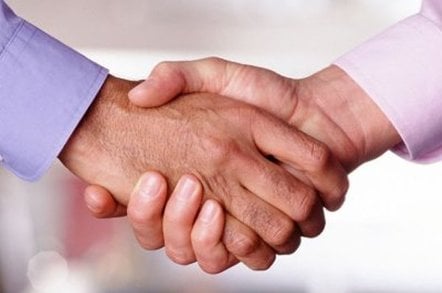 Chip designer ARM Holdings has posted declining profits and revenues for the second quarter of 2009. But its outlook for the coming year is, yes, cautiously optimistic.
The Cambridge company - whose chip blueprints are used in Apple's iPhone - saw an 18 per cent year-on-year drop in revenues and a 26 per cent profit drop.
Despite the continued slumping profit, the fact that ARM didn't lose itself and a leg in Q2 seems to have provided the company with some comfort. Chief executive Warren East said in a statement that while ARM dollar revenue declined 14 per cent during the first half of the year, overall industry revenues declined 30 per cent.
ARM's second quarter spans from April to June, and it has a royalty revenue stream that generally lags the semiconductor sector by a quarter.
During Q2, the company made a net profit of £6.4m ($10.4m) compared to £12.2m ($20m) in the same quarter of 2008.
Sterling revenues of £64.8m during Q2 were down slightly from £65 the previous year due to the strengthening of the dollar. Total dollar revenues in Q2 2009 were $105.5m, down 18 per cent year-over-year.
ARM may see an upturn on the horizon, but it's hesitant to be overly bullish. "With recent signs of increasing industry activity we expect that ARM's trading performance will be on an improving trend in the second half of the year," East said in a statement.
The company adds: "Although the trajectory of the end-consumer demand remains unclear, prospects for the semiconductor industry in the second half are more positive." ARM said it expects its dollar revenue for the full year to at least be in line with current market expectations - "unless industry conditions in the second half are more challenging than is generally anticipated." ®
Sponsored: Becoming a Pragmatic Security Leader