Canon Selphy CP780
Lab quality photo prints at a price
The Selphy CP780 is a dye-sublimation printer that uses a heated element to transfer colours from a roll of dyed film to the paper. The rolls are provided in user-replaceable cassettes. Since the dyes on the roll are sequential, the printing process sees each sheet pass through the carriage four times as each colour is applied cumulatively. This four-pass feeding action is handled automatically, the sheet being sucked back into the printer for each new pass.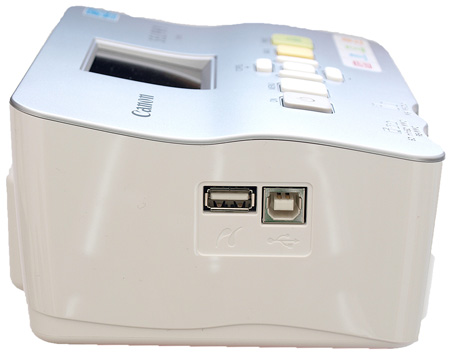 The Bluetooth adapter port can also be used to connect a PictBridge-compatible camera
Three memory card slots are provided at the front. These support Secure Digital, MiniSD, MMC+, RS-MMC, Memory Stick, Memory Stick Duo, CompactFlash and MicroDrive formats. The product details also list support for the Olympus xD-Picture Card format but this is not indicated on the printer itself, nor did we successfully manage to insert an xD card into any of the slots.
You can also connect a PictBridge-compatible camera to a port on the side or attach a computer via a conventional USB cable. Another option is to buy a special BlueTooth adapter designed for the Selphy and then print wirelessly. This sounds like an excellent idea, except for the fact that the BlueTooth adapter costs £40 – that's about a third of the price of the Selphy CP780 itself. You could buy a full-size A4 inkjet printer for less than that.
For the full wireless experience, the device can be powered from a rechargeable battery that clips on to the back. It costs £74 – more than half the price of the Selphy CP780. Even without these add-ons, the Selphy CP780 is easy and, dare we say it, fun to use. Shortly after plugging in a camera or memory card, you can browse through your image thumbnails using the colour LCD status window on top of the unit.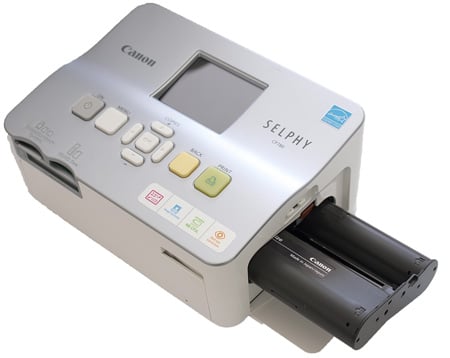 The device prints using dye-sublimation roll packs
Choose your image and press the Print button: it is as simple as that. Additional buttons allow you to print multiple copies, adjust brightness and contrast, and even customise RGB values independently. You can also correct red-eye, add colour effects such as sepia and fit multiple images onto one sheet, all using the on-printer menus.
Sponsored: Practical tips for Office 365 tenant-to-tenant migration