Android to invade in-home gadgets during 2009?
Tech exec claims OS' use not limited to smartphones
Gadget manufacturers will launch a range of Android-based devices for use in and around the home this year, according to a touchscreen gadget company.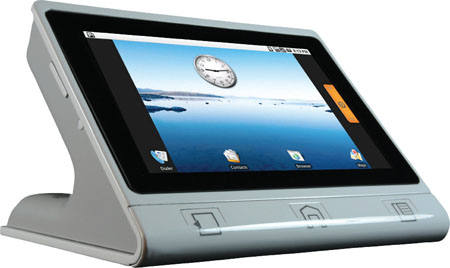 Touch Revolution's Nimble: an Android-based in-home "desk-phone" prototype
Bill Brown, Vice President of Marketing at US-based firm Touch Revolution, claimed that a string of famous companies have inked plans to introduce home control devices, media control devices and home phones based on the Google-developed OS this year, according to a report by Forbes.
Every device in each of the three categories will feature a touch-sensitive display measuring between 4.3 and 10in, Brown added, and connect to the web over a Wi-Fi or Ethernet connection.
The Android-based in-home gadgets will also come in a variety of designs, including some suitable for perching on a kitchen table, tablet PC-style designs and others for embedding into walls.
While Brown didn't name any specific companies, he claimed to know that the home control devices group will incorporate technology designed to talk to lights, locks, security systems and air conditioning units.
Android-based media control gadgets will include personal video recorders and remote controls, Brown added. He also said that the OS will be used to update the humble home phone with a range of new features, which could potentially see it used as a digital photo frame.
The Google OS' ease of use, openness, touch-centric features and, crucially, free distribution make it a very compelling system for manufacturers, Brown said.
Although Brown said that many such gadgets will start appearing in homes before the end of 2009, his insider's forecast should be taken with a pinch of salt. Why? Because the forecast will undoubtedly help increase interest in the firm's own such products.
Touch Revolution has already developed a "prototype desk-phone" with 7in touch-sensitive screen that, unsurprisingly, runs on Android. While the company hasn't said when the device – called Nimble – will be available, it's reasonable to assume that Brown's working towards a pre-2010 launch. ®