Tata threatens govt over e-car loan decision
'Give us the cash, or else!'
Leccy Tech The government's relationship with Indian car maker Tata could be turning sour, following delays over a multi-million pound e-car loan.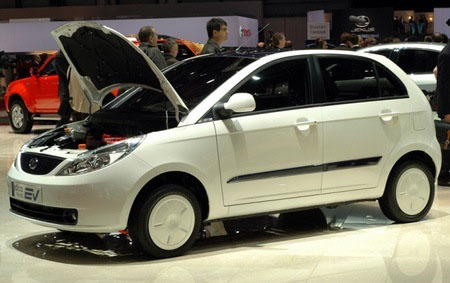 Tata wants a £10m govt loan to help it build a UK e-car production line
Back in April Tata applied to the government for a £10m ($16.3m/€11.6m) loan to help set-up a UK production line for its Indica Vista leccy hatchback.
But Tata's since been told by the Department of Business Innovation and Skills that a decision on the loan won't be made for another eight weeks – significantly extending the length of time that Tata must wait for an answer.
Tata – which also owns Jaguar Land-Rover - has implied that this just isn't good enough - threatening to bin entire the project if a decision isn't reached pretty damn quickly.
If Tata is awarded funding then the cash will come from a £2.3bn ($3.8bn/€2.7bn) car assistance package, which the government announced back in January. The cash is earmarked for schemes that could help the UK car industry out of the current crisis and eco-friendly car development projects.
But it's worth noting that a cross-party group of MPs recently pointed out that, to date, the government hasn't spent a single penny of its car assistance package cash.
To make matters worse, the government is also still haggling with Tata over the exact terms of a €340m ($556m/€394m) loan that Jaguar Land-Rover agreed with the European Investment Bank back in April.
Reading between the lines, the government's caution may be something to do with the fact that it lent MG Rover £6.5m ($10.6/€7.5m) back in April 2005 - only to see both the cash and the company vanish down the toilet almost immediately afterwards. ®