Cray punts smaller baby super
Adds Nehalems, slashes prices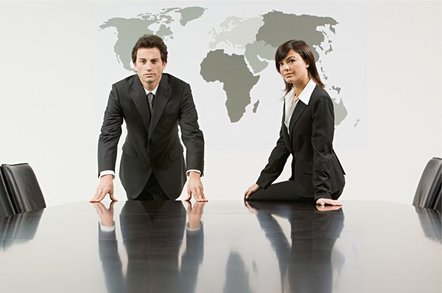 It looks like selling baby supercomputers based on a blade design and running the HPC variants of Windows and Linux is not as easy as Cray had hoped - which is why Cray has announced a new lower-end baby super, the CX1-LC.
The LC is short for "Light Configuration", and the idea is to get Cray blade iron into engineering offices, biotech labs, and software-development companies where a normal, two-socket x64 workstation has run out of gas and customers want to buy a blade box that can expand.
But "light" is a relative term, considering that the new LC box supports two-socket blades based on the latest quad-core Nehalem EP Xeon 5500 processors and the original CX1 announced last September had single-socket (CC48) and dual-socket (CC54) blades based on earlier generations of Xeons.
The CX1-LC is a deskside chassis mounted on rollers that has room for up to four two-socket Xeon compute blades. Like the original CX1, the CX1-LC runs on normal wall power, not the 240-volt power common with blade servers.
Fully loaded, a CX1-LC gives nerds up to 32 cores to play with, but is somewhere in the same neighbourhood of performance as the fully loaded 64-core CX1 offered last year. The advent of Nehalem EP chips also means that the eight-blade CX1 can now offer twice the oomph (very generally speaking) as it did a year ago. Significantly, the Nehalem EPs have somewhere between three and four times the memory bandwidth of the Xeon chips used in the earlier CX1 blades.
The CN5500-XD compute blade offered on both CX1 machines today is based on Intel's Tylerburg chipset and has a dozen memory slots for a maximum of 96GB using 8GB DIMMs, which are scarce and very expensive. The blade has a single fixed 2.5-inch SATA drive, which can be a 7200 or 10K RPM disk or Intel's X25-E solid state drive.
The blade has two Gigabit Ethernet ports or a dual data rate (20Gb/sec) InfiniBand port. It also features a single PCI-Express 2.0 slot that allows a two-port InfiniBand card running at 20Gb/sec or 40Gb/sec to be slapped into it, or Fibre Channel if that's what customers want to use to link to external storage.
Cray also has an optional, double-wide storage blade based on Intel's X25-E solid state drives or disk drives. This is called the CS5504-XD-F when supporting four fixed 3.5-inch SATA drives in a side chassis - in addition to the single on-blade SATA drive - offering a max of 4.5TB of capacity. When offering up to four hot-plug 2.5-inch SAS or SATA disks or SATA SSDs - a max of 2TB of capacity for disks and 320GB for SSDs - it's called the CS5504-H. These were announced at the end of June.
The CT5501-XD GPU-coprocessor blade is a double-wide unit that pairs the Nehalem EP blade with a single nVidia Tesla C1060 GPU, supported using Red Hat Enterprise Linux 5 only. Finally, the CV5501 visualization blade is another double-wide that pairs the Nehalem server blade with an nVidia Quadro FX 4800 or FX 5800 graphics card, making the blade a Windows or Linux workstation.
All of these blades are available in the regular CX1 or the new CX1-LC1.
In one possible scenario, the Cray CX1-LC can be set up with one visualization blade and some storage blades to function simply as a more powerful workstation. In another possible variant where I/O bandwidth is an issue, customers can put a compute blade and three storage blades in the box. Or customers can build a baby x64 Gigabit Ethernet or InfiniBand cluster to run code in the office instead of dispatching it to a shared supercomputer down the hall or out there on the internet.
The CX1-LC can also be used as an expansion box for existing CX boxes that have a twelve-port InfiniBand switch, providing up to 12 nodes in a single cluster spread across two chassis.
To make the CX1-LC, Cray installed a midplane in the blade chassis that only supports four blades. To upgrade to a full CX1, the midplane gets boosted to handle eight slots.
The base CX1-LC box comes with a chassis, single compute blade, power supply, and Gigabit Ethernet switch, and costs under $12,000 - which Cray says is "comparable to a similarly configured workstation." I think they're being generous to their own price list in that statement, but you can certainly beef up a workstation and spend lots of money.
By comparison, a skinny CX1 configuration last September came in at around $25,000 with a few blades and a switch, and a fully loaded box set up as a cluster costs $80,000.
Like the original CX1, the CX1-LC supports Microsoft's Windows HPC Server 2008 and Red Hat's Enterprise Linux 5, paired with Clustercorp's Rocks+ or Platform Computing's Cluster Manager. You can run Windows XP, Vista, or RHEL 5 on the visualization (workstation) blades. ®