BenQ Joybee GP1 mini projector
Palm-sized portable projector with a lifetime lamp
Review We're all used to being able to take videos and movies with us when we go out, whether it's on a phone or a portable media player. Some of these devices boast pretty decent widescreen displays too, but with the Joybee GP1 mini projector you can carry an 80in widescreen display around in your handbag.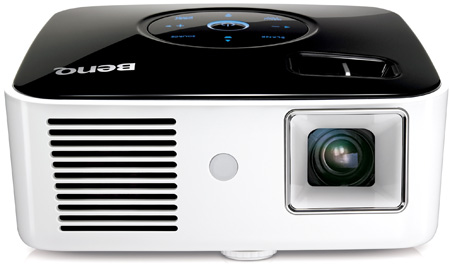 BenQ's Joybee GP1 mini projector
This miniscule device easily hooks up to your laptop or games console, but it also has a built-in media player to play back video and photo slideshows directly from any handy USB storage device.
Billed as being small enough to fit into the palm of your hand, the GP1 is about the same size as a couple of rounds of sandwiches. At only 136mm x 54mm x 120mm and weighing only 0.64kg, this really is a truly portable projector – although it does require mains power to run.
Taking a look at the specs, it's clear we're not looking at a high-end projector here. We have a DLP system with a native 858 x 600 pixel resolution in a 4:3 aspect ratio and a brightness rating of just 100 ANSI lumens – that's an order of magnitude less than what we're used to from a full-sized model.
At the rear there are only three connectors: two inputs and an audio output. The first input is a proprietary 30pin connector and the other is a standard USB port to connect a USB thumb drive or hard drive. The proprietary connector allows you to plug in either a set of video cables, including standard VGA and composite, or a custom iPod dock which is available separately at a cost of £30.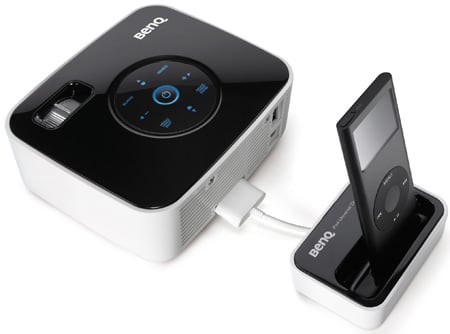 The iPod dock seems a nice touch, but is an optional extra
Underneath is a single screw-in foot, which forms a crude height adjustment, as well as a standard tripod mount, which is really handy for accurate setup. A single thumb-operated focusing ring is provided, but no zoom – you just move the projector back and forth to determine the size of the image.
Sponsored: Practical tips for Office 365 tenant-to-tenant migration