Nissan to build e-car batteries in Blighty
Coup for Sunderland plant
Leccy Tech Nissan is to start making lithium-ion batteries for its leccy cars in the UK. But today's announcement stopped short of guaranteeing that Nissan will start building e-cars here too.
In a statement, Prime Minister Gordon Brown said: "Nissan's investment in a new battery plant and its hope to start producing electric vehicles here in Sunderland is great news for the local economy... Sunderland could now be a strong contender to produce electric vehicles for Nissan in Europe."
Presumably, what Nissan actually hopes for is to get more cash from the Government. Nissan's investment in the Sunderland battery plant will amount to £200m ($327m/€232m) over five years and will create 350 direct jobs.
Nissan also announced that a second battery plant will be built in Portugal. Both locations have been chosen as the result of financial assistance in the form of grants and loan guarantees from their respective governments.
Nissan's Sunderland plant falls within the recently established north-east of England Low Carbon Economic Area. The establishment of the LCEA will involve the setting up of a new training centre, technology park and test track for low carbon vehicle development.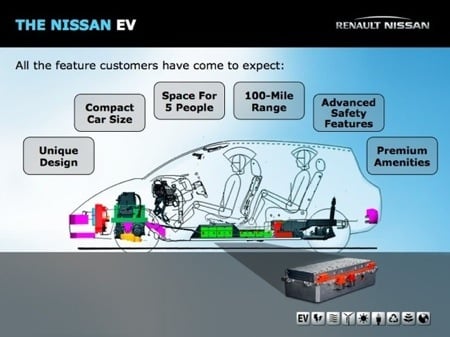 Will Nissan's EV meets customers' expectations/?
Portugal has its own e-car ambitions, while Nissan has two factories across the border in Spain at Barcelona and Ávila.
In November 2008, Portugal signed a deal with the Renault-Nissan Alliance to begin implementing what it calls a "zero-emission mobility programme" from 2010, with the first e-cars arriving in 2011. The Portuguese government will install 1200 recharging stations in 25 major towns and cities, and along the country's motorway network.
Between them, the two factories will have the capacity to churn out 60,000 battery packs a year, which gives some idea of Nissan's medium-term e-car sales ambitions. Nissan also indicated that other European battery plants may be on the cards.
Judging by its title – the Nissan European Mother Site for Battery Production – the Sunderland plant will be the hub of Nissan's European battery operations, so assuming Mandelson and Nissan can hammer out the financials, leccy car production may indeed come to Sunderland at some point in the not-too-distant future.
Nissan is expected to unveil a new electric car on 2 August in Japan. ®