BMW to ride in with 115-mile range e-scooter?
C1 revamped for electric era
Leccy Tech BMW has cracked the electric scooter nut and will start to sell what appears to be a genuinely usable electric bike in 2011.
That's assuming a report in overseas magazine Solo Scooter is correct, of course.
The putative BMW machine will apparently have a top speed of 120kph (75mph) and a range on a full charge of its lithium-ion battery pack of around 250km (155 miles).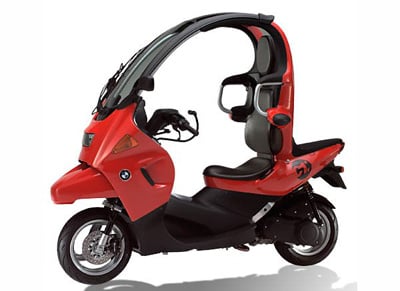 BMW's C1: template for the new e-scooter?
This wouldn't be BMW's first flirtation with urban-specific two-wheel transport. Back in 2001, it launched its C1 scooter, a semi enclosed feet forward twist-and-go machine that sadly only found 13,000 buyers in its two years of production, leading to the premature cancellation of the entire project.
Though BMW designed the C1, it was built by Italian engineering and design concern Bertone. But with global car sales in the toilet at the moment, it's likely BMW has some excess production capacity it could put to use.
A new niche product like a leccy C1 could be just the ticket to help take up the production slack and give BMW engineers some more real world EV experience. ®
Sponsored: Becoming a Pragmatic Security Leader