HTC Snap
Paint it BlackBerry
The music player has few frills and the trackball control takes a bit of getting used to. You need to nudge it left or right to scroll through your tracks and it's easy to go too far. The sound through the supplied headphones wasn't as bad as we'd feared it might be, with a surprising amount of air and space, though they're very light on bass. There's no graphic equaliser to adjust the sound, nor is there a 3.5mm headphone jack.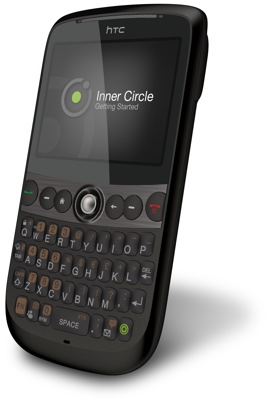 Messaging to the fore, not multimedia
The Snap comes with A-GPS and Google Maps on board, both of which worked fine, and this being a Windows Mobile handset, you can add satnav software from any of the main manufacturers. Without a big touchscreen though, it's likely to be more hindrance than help if you try to use it while driving.
Office Mobile comes pre-loaded, allowing you to view PowerPoint docs, and edit Word and Excel files, though not create them. Windows Live - aka Bing - is also present as an alternative search option to Google, should you feel the need.
The battery offers the same capacity as the one we've seen recently on the Touch Pro 2 - and a bit more than the Touch Diamond 2 - but the smaller screen means it can keep running for longer – a good three days of moderate use in our case, which is pretty good going for a smartphone.
Verdict
The HTC Snap looks solidly professional but its rubberised plastic casing is extremely tactile and its Qwerty keyboard is a joy to use. Its focus is clearly on messaging, and it keeps the price down by placing its multimedia capabilities on the sidelines. Browsing and PIM functions are functional rather than fun, but the Snap is a solid little slimline, mid-price workhorse that's likely to find its way into many a pinstriped suit pocket. ®
More Smartphone Reviews...
| | | | |
| --- | --- | --- | --- |
| Nokia N97 | Acer Tempo F900 | HTC Touch Pro 2 | HTC Vodafone Magic |

HTC Snap
It looks dull, but feels lovely – a business-centred device we could warm to.