Microsoft's Flash-challenger Silverlight 3 hits web
Ready to "light up" online Office apps
The next version of Microsoft's Flash-challenger media player has hit the web, ahead of Friday's official launch.
The final Silverlight 3 runtime for users and software development kit (SDK) for programmers have been published to the web and were available for download as of Thursday afternoon. You can get the SDK here and player here.
The player comes in a package that Microsoft promised would download in 10 seconds, but it seems to take a little longer judging from my experiences.
Microsoft's plans a formal launch of Silverlight 3 at a San Francisco, California event Friday morning.
The release comes ahead of Microsoft's massive Worldwide Partner Conference, where the company will evangelize Silverlight 3 against Adobe Systems' Flash and creative tools.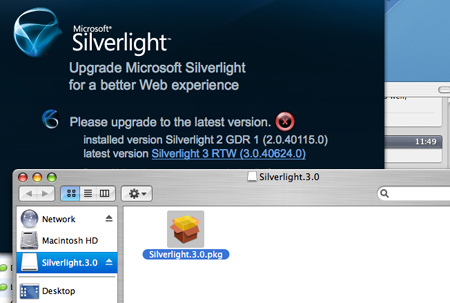 Download and install Silverlight 3 to the Mac
Version three closes many gaps in Microsoft's player that have held it back against Flash. Features include integration with a browser's forward and back button, ClearType for Windows and Mac, hardware acceleration, the ability to work offline and run outside the browser without an additional download. Plus there's support for touch-based input.
Partners also get a set of controls for charting and layout along with the (expected) integration with Visual Studio and the Expression Suite. While partners may be excited by Expression Suite, users of Flash - which dominates the media and interface market - will not be impressed.
Overall, however, version three should finally provide an alternative for Microsoft's design partners who are tired of handing off media and interface work to Flash experts.
Silverlight is also an important part of Microsoft's online services. The player will enable a web-based version of Microsoft's Office suite called Office Web applications, unveiled last October.
Office Web applications are now expected to be released for testing at Microsoft's partner conference next Monday in New Orleans, Louisiana, following the report of some blatant Web 2.0 self-promotion by a Rackspace employee and Twittery hints from a Microsoft evangelist.
Office Web applications are part of the planned Office 2010 suite, and they're intended by Microsoft to answer Google Apps, which come with competing word, spreadsheet, and presentation tools.
Microsoft has said in the past that Silverlight would "light up" features in Office Web applications. It'll provide sharp images, integration with Office Live Workspace to upload multiple files, and also the ability to share and edit documents simultaneously in real time.
Microsoft was unable to comment on the release of Office Web applications at the time of writing. ®