Samsung spins up 250GB micro hard drive
The 1.8in HDD with integrated USB
Samsung has introduced a 1.8in hard drive with a whopping - relatively speaking, of course - 250GB capacity.
So much, perhaps, for claims the South Korean giant is getting out of the 1.8in HDD business to focus instead on solid-state drives.
The Spinpoint N3U is aimed primarily at external hard drives rather than devices like netbooks and music players - kit traditionally associated with 1.8in HDDs. That's because it uses USB rather than a parallel ATA or Sata connection.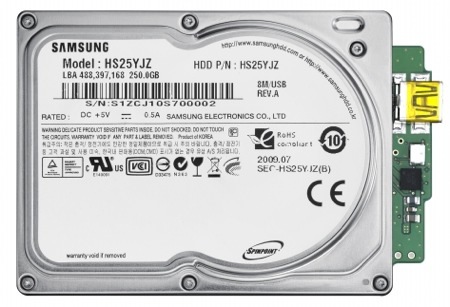 Samsung's SpinPoint N3U: USB connected
That makes it ideal for Sammy's S1 Mini range - reviewed here - of 1.8in external HDDs.
Still, Samsung has its eye on other roles. It claimed the N3U uses up 40 per cent less power than an equivalent-capacity 2.5in HDD. That may well appeal to netbook makers looking to extend battery life yet deliver the kind of capacity they currently turn to 2.5in Sata HDDs to provide.
That said, the N3U only spins at 3600rpm - not enough for a notebook, perhaps, but fine for a netbook.
N3Us are also available with 120GB, 160GB and 200GB capacities. The 250GB model is priced at $199 (£124/€143). ®