Samsung i8910 Omnia HD
HD recording camphone, anyone?
Review The Samsung i8910 Omnia HD comes with a weight of expectation upon it. As the first cameraphone claiming to be capable of recording HD video, it sets itself up to be challenged. Fortunately, for the most part it comes through. With its stonking 8Mp camera and huge OLED screen, this smartphone has what it takes to be an iPhone alternative that can really deliver on media.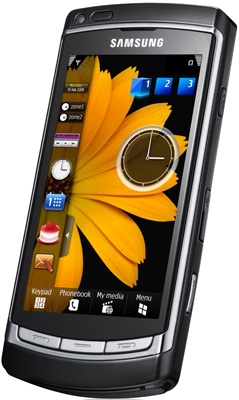 Samsung's i8910 Omnia HD
When it comes to watching video, big is generally better, and the Samsung i8910 Omnia HD makes it clear that watching video is very much what it's all about. A large slab of a handset, at 123 x 58 x 13mm and 144g, it feels absurdly wide at first, until you realise that 13mm isn't all that thick – we could get used to it.
Undoubtedly, the 3.7in OLED touch screen is a stunner, with 16m colours and a resolution of 640 x 360 pixels. The pixel resolution doesn't sound particularly impressive for a screen this size, but the screen technology it's based on means it looks strikingly vibrant. The Omnia HD uses an Active Matrix Organic Light Emitting Diode (AMOLED) display that delivers a faster pixel switching response than standard OLED.
The screen's touch sensitivity took a bit of getting used to, and we found that we often had to double tap to access functions. Once we'd got used to it though, this wasn't much of an issue. After all, it's always worse when an over-sensitive screen has you accessing functions you'd not meant to.
The capacitive touch screen is however a smudge magnet, and it regularly needed to be wiped while browsing. In fact, the thought of having a stylus seemed like a preferable alternative at times.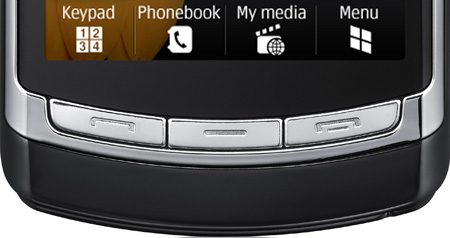 Despite a touch screen, there are dedicated buttons too
The screen is surrounded by a metallic frame that includes three buttons at the bottom for call start, stop and the menu/task manager. Above the screen is a 0.3Mp camera for video calls and a proximity sensor, so you don't activate the screen while the phone's pressed to your ear. Around the sides are a volume rocker, Micro SD slot, micro USB slot, screen lock button and camera shutter button, with a 3.5mm headphone jack plug covered by a cheap and flimsy plastic cover on top.