NASA tests rocket-disaster escape rocket
Firing oneself out of the frying pan
NASA has announced a successful test of its "Max Launch Abort System" (MLAS), essentially a rocket ejector seat writ large and applied to an entire space capsule. The system is designed to let astronauts escape and parachute to safety in the event of a launcher stack crackup.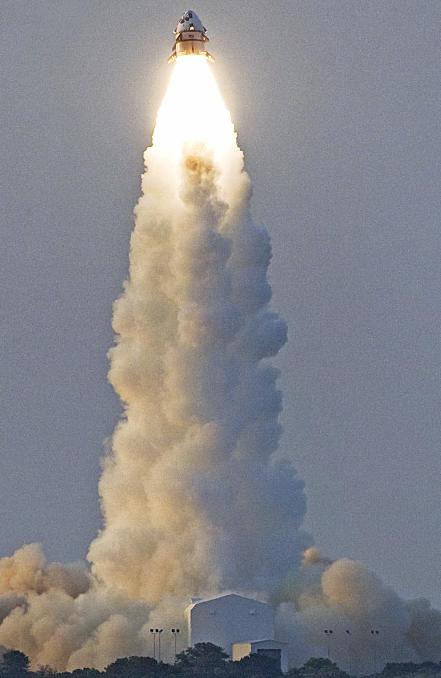 That's just the ejector seat. Wait till you see the rocket.
The test, in which a mockup capsule was first fired into the sky by MLAS rockets and then parachuted down into the Atlantic, was carried out yesterday at NASA's Wallops Island test facility in Virginia. In a scenario comparable to what would happen in the event of a catastrophe on the launch pad, the MLAS boosted the capsule a mile into the sky before triggering parachutes for a safe ocean splashdown.
The MLAS uses four solid rocket motors built into a fairing attached to the crew capsule and a variety of parachutes to stabilise the hurtling module after it has soared free of its doomed launch stack. The system is named after NASA engineer Maxime (Max) Faget, a pioneer from the days of the Mercury programme.
Despite the MLAS' pleasingly pyrotechnic tests yesterday, NASA has no plans at present to use it on any actual manned spacecraft. The embattled Ares/Orion ("Constellation") plan for an American return to space in the post-Shuttle era - provided it survives the discussions which have followed the economic downturn and the US election - would use a single-rocket abort/escape system more like the escape towers of old.
NASA say that the development of MLAS - and yesterday's test - were nonetheless well worthwhile, as much of the data gleaned will be used in the Constellation programme in one way or another. Assuming Constellation goes ahead, that is.
There are more pics and a vid of the MLAS test here. ®
Sponsored: Practical tips for Office 365 tenant-to-tenant migration