Mobile co fails to stump up for pointless structure
Good folly, missed lolly
The largest folly built for a hundred years has just been completed on the Rushmore Estate in Dorset, despite the lack of mobile-phone operator to pay for it.
The folly was driven by the need for better Airwave coverage - the mobile network used by the UK's emergency services - and the requirement to hide the 17m masts needed on the Grade-II-listed park and garden, but Airwave operator O2 pulled out of the project, leaving estate owner William Gronow-Davis to foot the bill.
Good thing too - we had a quick chat with the architect, Walshe Associates, who agreed that turning the rather marvellous building into a mobile-phone mast would have prevented it being a folly at all: once something becomes useful it can't be considered a proper folly.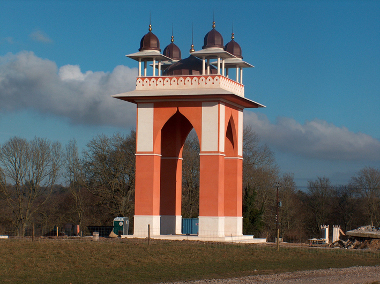 There are more pictures at the architect's site
The domes on the top still have aerials sticking out of them, and could, in theory, house five mobile masts (one under each dome), but that would force it to become a utilitarian building, providing much-needed connectivity to golfers and the like, while we prefer the glorious pointlessness of the building as it stands. As Mr. Gronow-Davis puts it in the Daily Echo, (along with a very self-satisfied photograph):
"From my drawing room you look out onto the gardens along an avenue of trees and fountains and about a mile away is the folly. ®