Magno stimulation makes brain learn skills better - boffins
Bonce-bothering breakthrough in British Columbia
Canadian brainbox brainboxes have found that cunningly targeted "magnetic stimulation" of the brain can help test subjects to learn manual skills.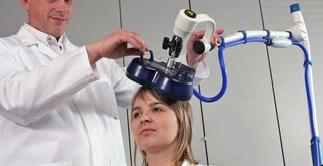 Thinks: Soon I shall be INVINCIBLE
Lara Boyd and Meghan Linsdell of the University of British Columbia have published the results of their research into the brain's dorsal premotor cortex region (termed PMd by boffins) and its role in learning to accomplish skilled work with one's hands. They say that "repetitive transcranial magnetic stimulation" can improve "continuous motor learning".
Specifically, the duo had a group of human test subjects try to master the ability to track a target on a computer screen using a joystick. Some had their noggins magnetised before each session, others didn't - but they had no idea which group they were in as the non-stimulated candidates were given a "sham" blast to the head from the magno stim rig.
In order to check specifically for "learned motor memory" - as opposed to the effects of practice and familiarity with the experimental rig - part of the target's movements were a non-random repeated pattern, while the rest of each session saw it move randomly. The test subjects didn't know this, thinking the entire period to consist of random movements.
According to Boyd and Linsdell, the magnetic bonce-zapping caused test subjects to perform much better than the others during the repeated non-random section of the tests.
"Our data support the hypothesis that the PMd is important for continuous motor learning, specifically via off-line consolidation of learned motor behaviors," the two boffins note.
Their paper Excitatory repetitive transcranial magnetic stimulation to left dorsal premotor cortex enhances motor consolidation of new skills is published in draft courtesy of BMC Neuroscience here (pdf). ®
Sponsored: How to Process, Wrangle, Analyze and Visualize your Data with Three Complementary Tools