IBM finances vSphere-x64 server bundles
Banking on sales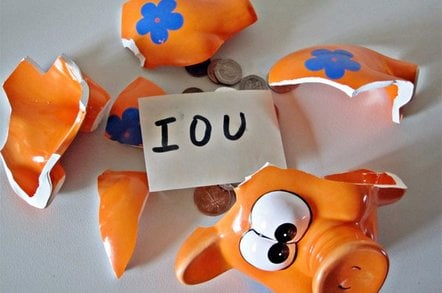 IBM has certified VMware's ESX Server 4.0 hypervisor and its vSphere 4.0 virtualization management stack on its System x rack and tower servers and on its BladeCenter blade servers. And the company is now shipping the vSphere stack on its x64 boxes.
Having no hypervisor of its own for x64-based servers, IBM is free to endorse the market leader in x64 virtualization, hoping to make a little money on server consolidation deals. With cash being tight right now, particularly among the key enterprise customers who buy - or lately, don't buy - its System x and BladeCenter servers, Big Blue has to do something to move some iron. And that something is to behave like a bank and offer customers financing to do deals.
The company has an OEM reseller agreement with VMware, and its systems and software groups want to get a piece of that vSphere action as companies move up to the latest VMware release, which launched on April 21 and started shipping on May 21.
But certification and enthusiastic talking is not sufficient to get the enterprise-class customers who tend to buy Big Blue's x64 servers to take out their checkbooks in this down economy. They have something akin to x64 constipation (or maybe it is consternation) these days and are making-do with the x64 iron they have until the 2010 budget money appears. (Well, maybe).
IBM can't wait that long, so it is perfectly willing to loan companies the dough through its Global Financing unit to do server consolidation products on its x64 iron and using the vSphere 4.0 stack. IBM is willing to do a server-vSphere combo deal that generates as little as $5,000 in total revenue, which means it also wants to give its SMB channel partners who peddle a lot of its x64 servers a chance to play too.
The exact details of the financing vary from country to country, and they depend on the customer's credit rating. In the United States, IBM is financing the hardware part of the combination using a lease that runs to 36 months and has a customer buyout provision at the end of the lease for the fair market value of the iron. Using VMware's VMmark benchmark as its guide, IBM says that a System x3850 server (with four sockets and sporting Intel's six-core "Dunnington" Xeon 7400 processors) could accommodate 70 virtual machine partitions at a cost of around $59,000, including all the hardware and software.
Instead of shelling out that cash to do the deal and then having to write it off, IBM Global Financing can let you have it for $1,675 per month over 36 months. With the low interest rates IBM can charge because it has among the best credit in the world, that only works out to $60,300 in payments in total to Big Blue, plus whatever the value of the server is three years from now. (It is hard to believe it would be worth more than a couple grand).
This is probably the kind of deal some companies will be willing to do, provided they have good credit. But with banks cutting back on their credit in the States like crazy, even IBM will probably be more cautious than these numbers suggest and make enough dough in higher interest rates on x64-vSphere deals to cover some anticipated losses when a few well-intentioned companies that buy new virtual infrastructure go the way of all flesh. ®