Elgato Video Capture
Mac-up your dusty VHS collection
We also tried Video Capture on a older, Core Duo-based MacBook Pro, but here the Video Capture automatically switches to MPEG 4 because of the H.264 processor overload. Recordings were generally good, but even here the 'over-cranking' problem popped up occasionally. It's not a problem with the machine - we've used it to digitise content using an Elgato TV tuner many times before, always successfully.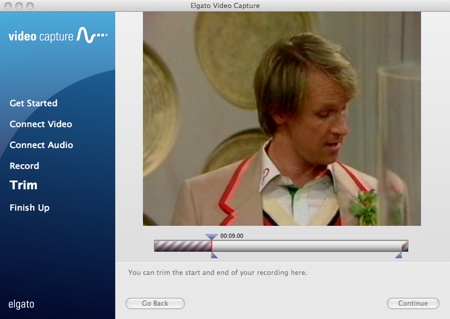 Setting the in and out points isn't as accurate as it could be
Editing out unwanted material at the start and end of the recording is easy to, but not as fine-tunable as we'd like. The markers used to indicate the in and out points only operate by dragging - you can't tab through small intervals using the arrow keys on the keyboard - and the best interval you can get is one second, sometimes more, depending on where the key frames fall.
Some of the cuts we made didn't fall where we'd market. When they did, the soundtrack was often spliced badly so that, during playback, it didn't cut in immediately but after a second or so, though it was in sync. So if you need fine control, you'll want to import the recording into iMovie to edit it there - the Video Capture editor is just for 'rough and ready' cuts.
Elgato has priced the Video Capture pack at £90/€99. If you already have a TV tuner with s-video and/or composite-video inputs, Video Capture is redundant. And that £90 will buy a lot of cut-price DVDs - 18 at a fiver a pop. So if all you're planning to do is digitise some old pre-recorded tapes - we have to remind you it's illegal to do so - it may be more cost-effective just to buy discs instead, rip them and get better picture quality into the bargain.

Scart, s-video and composite-video sources supported
On the other hand, if your prized home movie collection is still residing on dusty VHS tapes, Video Capture isn't a bad way get them onto your Mac - provided it's a powerful one.
Verdict
There must be a fair few Mac owners with VHS tapes they want to digitise but no hardware to use to do so. Elgato's Video Capture fills that gap perfectly - on paper. In practice, it's very disappointing. Macs we know can do video digitisation yielded sub-par results with Video Capture. We hope a software update will improve matters. Until it does it's hard to recommend Elgato's offering unless you have a top-flight Mac. ®
More Mac Video Accessory Reviews...
| | | | |
| --- | --- | --- | --- |
| Elgato Turbo.264 HD | Elgato EyeTV 310 HD | Elgato EyeTV DTT Deluxe | Elgato EyeTV DTT |

Elgato Video Capture
It's pricey and the results are more rough'n'ready than they should be. Disappointing.