BlueArc fires Mercury at the mid-range
Quick silver NAS coming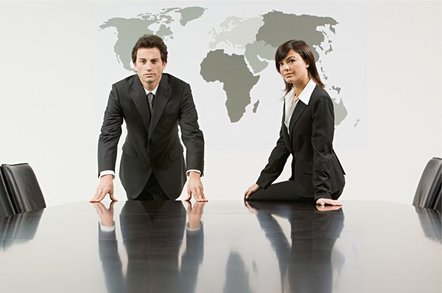 Super-NAS supplier BlueArc will announce tomorrow it is moving down into the mid-range with a Mercury product line, using its high-end, HW-accelerated design ideas.
BlueArc's Titan uses Field-Programmable Gate Arrays (FPGA) to accelerate its network-attached storage (NAS) processing and deliver faster I/O performance. The company says its Titan 3000 has a hardware-based operating system, SiliconFS file system, provides up to 4PB of capacity spread across fast Fibre Channel, capacious SATA drives, and WORM (Write Once Read Many) drives.
The Mercury line pairs Altera Stratix III FPGA hardware with standard Core 2 Duo Intel processors, and includes different tiers of storage with policy-based automated data movement between tiers. File system data movement and metadata processing is accelerated in the FPGA hardware while data management software runs on the Intel CPUs.
BlueArc reckons medium businesses are geting hit by a great increase in file data and its Mercury line is a product on which they can consolidate all the separate silos of data they are said to be holding. Multiple storage devices and filers can be replaced by a Mercury cluster with virtual (storage) servers optimised for applications, departments or protocols - iSCSI, CIFS and NFS. Each virtual server contains its own multi-tier virtual file system with a cluster namespace and access controls.
The actual storage consists of tier 0 solid state drives (SSD), tier 1 Fibre Channel disk, tier 2 SATA, a tier 3 of deduplicated storage for archive or compliance data from other suppliers, such as Quantum and its DXi7500. There is also a possible tier 4 of some other supplier's tape or virtual tape library. The tier 3 and 4 storage products from other vendors are integrated into the BlueArc tiering functionality.
Data protection features include active/active and campus clustering, instant file system recovery from snapshots, multiple checkpoints for file system roll-back, and both synchronous and asynchronous replication.
There are two Mercury products with the 50 having two cluster nodes, a maximum 1PB capacity, and 700MB/s NAS throughput. The larger Mercury 100 has up to eight cluster nodes, a 2PB capacity and 1,100MB/sec NAS throughput. For comparison the entry-level to the Titan line, the 3100, also has up to eight cluster nodes, a 2PB capacity limit and 1,200MB/sec NAS throughput.
The competition has to include EMC's Celerra, Isilon's IQ line, NetApp's FAS products and other NAS products, with BlueArc's positioning being based on clustering scalability and availability, and superior performance. The Celerra can have up to eight clustered file server nodes. NetApp is introducing its own clustering facility with ONTAP 8, its coming operating system release later this year. Isilon already supports clustering.
Both Mercury models will be sold by BlueArc's own salesforce, its resellers and through Hitach Data Systems, which has an investment in BlueArc. There is no word yet on pricing and availability although, obviously, the Mercury line will be priced lower than the Titan products. We can anticipate that these will probably not be cheap boxes as BlueArc states that Mercury will help "to lower the total cost of ownership (TCO) of (customers') storage infrastructure." ®