Iomega eGo 320GB pocket external hard drive
Pocket-flat backup bargain?
Review Iomega has re-invented its eGo portable hard drives, opting for a 'value-added' theme: when you purchase the 'PS' (Protection Suite) edition of an eGo, you get a bundle of backup and data security software included, plus slimmer, ruggedised hardware and the promise of a three-year warranty.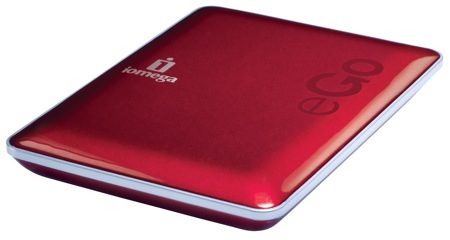 Iomega's new eGo: sexier styling than before
The redesigned case is slimmer and lighter: at 89 x 136mm and barely 15mm thick, the new eGo weighs just 170g. Call us faddish, but we thought the old eGo case design was ugly, like some kitchen designer's idea of a hipflask. The new unit has smooth edges and corners all around, which certainly makes it cuter but also more comfortable to handle and, we dare say, easier to slip into your pocket when you're in a hurry.
We tested the "ruby" red model with a capacity of 320GB. The product is also available in silver and "midnight" blue finishes, and all three models can be purchased with 320GB or 500GB capacities. The base of the unit sports four little rubber feet to stop it from sliding off your desktop, but the case is otherwise featureless. There's a mini USB 2.0 port at one end - no Firewire on this model - along with a drive status LED, and that's it.
Although the drive is designed to run entirely using the power supplied down the USB connection, Iomega provides a double-headed cable to help deal with low-powered USB ports. If your feeble notebook can't supply sufficient power through a single USB port to keep the eGo running, you can slot the cable's second plug into another USB port to double up the juice.
Of course, if your USB ports are located on either side of your notebook, the Y-cable can't reach both. If your notebook has just one spare USB port, you're plain out of luck.

The mini USB port is the only port
But being realistic, any correctly specified computer should deliver enough current through a single USB 2.0 port to power the eGo on its own. The manual says you must never attach the eGo to a USB hub, even a powered one, but we tried exactly that and experienced no problems whatsoever. Perhaps Iomega is simply covering itself against complaints from buyers with duff PCs.