Apple patents karaoke lessons
MaSfPRTFfK?!
The US Patent and Trademark office today released a flurry of 22 Apple patent applications, the most earth-shaking of which may rid the world of one of nightlife's most maddening menaces: off-key karaoke singers.
We'll get to some of the others in a moment, but first: Methods and Systems for Providing Real-Time Feedback for Karaoke (MaSfPRTFfK).
Unlike many who'd prefer to hoist their pints in blessed silence, Apple has no objection to karaoke per se. As MaSfPRTFfK asserts, "Many people love to sing along with their portable music players, stereos, or favorite TV music programs. Karaoke takes the sing-along experience to another level."
All well and good. However, as the application continues, "Current karaoke systems, however, do not address one of the biggest obstacles faced by amateur singers: singing on key/pitch. As a result, karaoke users seldom improve the quality of their singing."
And Cupertino wants to help inebriated sentimentalists get through their next rendition of "Feelings" without darts being redirected from the barroom board to their bums.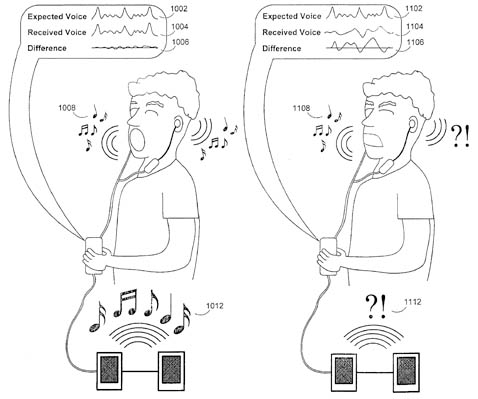 Mr. Good Singer (left) is rewarded with happy notes, but Mr. Bad Singer (right) is chastised
MaSfPRTFfK describes a technology that can compare a singer's song stylings to the expected pitch for the tune being played, and - if the karaokist is flat or sharp - warn them on-screen that they're off-key.
The application doesn't limit itself to professional karaoke systems. Also included are any "portable electronic device (e.g., mobile phone, portable music player, etc.), a desktop computer, or any other suitable user device."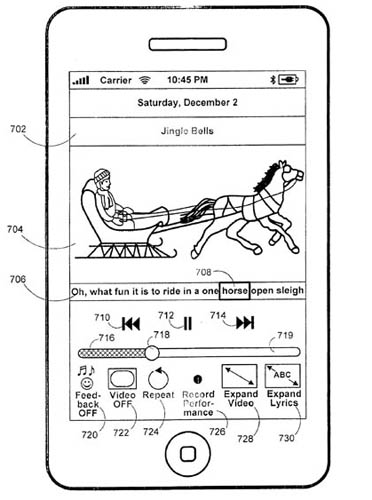 Your iPhone will help satisfy your holiday-season karaoke needs
The microphone used to pick up the singer's voice can be either a traditional handheld device, or it can be the microphone built into a smartphone such as - what else? - the iPhone.
The fun doesn't have to remain local, either. MaSfPRTFfK lets karaokists communicate worldwide over "one or more networks including the Internet, a mobile phone network, cable network, telephone-based network, or other types of communications network or combinations of communications networks" using "a satellite path, a fiber-optic path, a cable path, a wireless path, or any other suitable wired or wireless communications path or combination of such paths."
While MaSfPRTFfK is undoubtedly the most momentous of today's flood of Apple patent applications, a few others also illustrate the seething hive of unbridled creativity that is Cupertino's One Infinite Loop.
Active Electronic Media Device Packaging describes a set of technologies that would allow a device to display content or advertising either continuously or when triggered by an external event such as a prospective purchaser picking up the box.
Power could be supplied to the device directly to the device through connectors attached to retail packaging or wirelessly "via magnetic induction or other wireless power techniques."
Content could be streamed to the device by means of "one or more direct data lines," such as USB, or by means of "an integrated wireless network interface." In addition to advertising or demo content, the data signal could also provide firmware or software updates, bug fixes, or application customizations.
One nice detail: the application also describes a way to ensure that only the top box of a stack of similar boxes would display ad content - and when it's removed, the next box down could become the digital shill.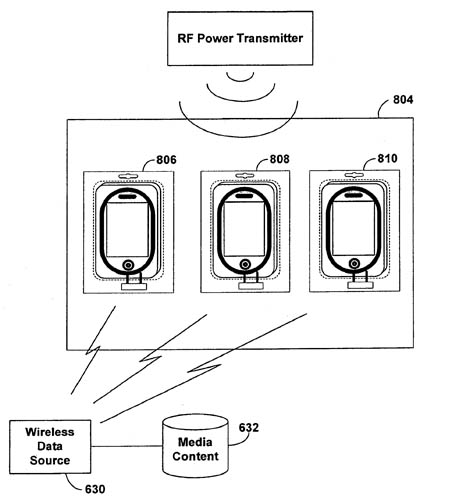 With active packaging, a blister-packed iPhone could tell you of its charms
Systems and Methods for Altering Speech During Cellular Phone Use describes ways that a mobile-phone user's voice could be either made less annoying to those around them or muted to keep a conversation private. Or both.
Two main methods to accomplish these effects are described. The simpler of the two merely informs the user either visually or audibly when he or she is speaking loud enough to provide a usable signal - especially useful, according to the application, "if the user is speaking in a loud and boisterous manner."
The second method is more complex. A fold-out or slide-out "shield" would contain active voice-cancellation circuitry and sound-production hardware that could capture the user's voice then generate an audible canceling signal that would "cancel, reduce, or modify the user's audio signal," which would cause those around him or her to "hear a form of the user's voice which is inaudible, lower in volume, or unintelligible."
Although improved karaoke singing would be a demonstrable boon to mankind, reducing mobile-phone users' ear-irritating chatter would be a close second.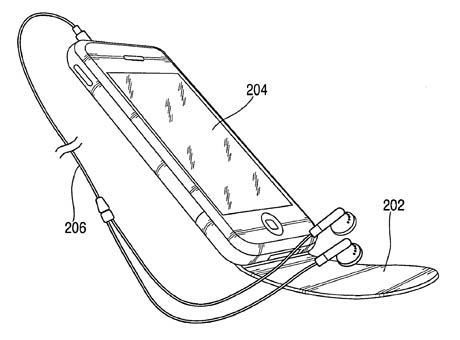 A slide-out shield could add a noise-canceling audio signal to your iPhone
In addition to these three patent applications, the US Patent and Trademark office also published Apple patents today that, among other things,
If you want to investigate all of today's filings - or to join the ranks of patent-watchers who keep up with Apple and others' filings - here's how: Fire up your browser of choice and point it at the patent office's Quick Search page. Type the name of the company you want to search for - Apple, in this case - into the Term 1 field, choose Assignee Name in the Field 1 drop-down menu, click the Search button, and enjoy. ®
Sponsored: Detecting cyber attacks as a small to medium business