iPhone v Pre - the celebrity smartphone deathmatch
Every feature unearthed, every quirk revealed
Finally, the apps
Supplied apps: Both the iPhone and the Pre do a fine job of supplying you with the apps you need to take advantage of their hardware, and in most cases the differences between them are slight.
Their browsers, for example. Both the Pre's Web app and the iPhone's Safari are built on top of WebKit and are essentially equally snappy.
When the iPhone accesses a site that provides a mobile-formatted page, it'll use that page, but the Pre won't. Even if you enter a wireless-specific address such as IBM's or Cisco's, the Pre will render it as it would for a web page, not a handheld.
Oddly, Palm supplies the Pre with six built-in bookmarks, and five of them do load with mobile-optimized pages: ESPN, Amazon, Sprint, MySpace, and Facebook. The sixth - Palm - doesn't. Go figure.
Both the Pre and the iPhone provide the ability to save a web page into the Pre's Launcher or the iPhone's home page, where it will be then accessible by Universal Search or Spotlight. The Pre adds that capability to contacts.
The iPhone one-ups the Pre in that Safari's address field will auto-complete URLs, while the Pre instead sends you off to your choice of Google or Wikipedia.
The Pre's Calendar app has a couple of advantages over the iPhone's. For one, you can view by week or - even better - view by day and then side-scroll through the full week. The iPhone can do neither. Also, the Pre compresses unused hours into an accordion-pleat pattern, thus saving precious display space.
Multi-account emailers will appreciate the fact that the Pre's Mail app includes the ability to stock a Favorites list with often-used folders from different accounts, making them all easily accessible in one place.
In my testing, both apps handled images, audio, and video well, and both have the hideous shortcoming of forcing you to select each message individually before deleting it - a true pain if you have a hundred or more messages crowding a neglected mailbox.
Since it's a multitasking machine, the Pre has no problem whatsoever letting you know what's going on in other apps. This capability is best exemplified in Notifications, small messages at the bottom of the display that let you know, for example, if an email message has come in, who its from, and what its subject is; whose call you just missed, whether you have voicemail; from what number; and who's texting you and what's on their mind. If these notifications clutter your display, flick them off the the left to delete them - a gesture used to delete most list-based items.
The iPhone has alerts, as well, in the form of little red numbered circles on an app icon to tell you when some info has been added to that app's collection. Although these alerts carry less information than do Pre's Notifications, they're also less intrusive. iPhone Software 3.0 also allows developers to add more-intrusive alerts to their apps. We'll see how that works out when those apps start to appear in sufficient numbers.
Finally, as mentioned before, the Pre's Universal Search doesn't search Mail or Calendar apps as does the iPhone's Spotlight. Sounds like version 1.0 to me.
Supplied-apps advantage: A tie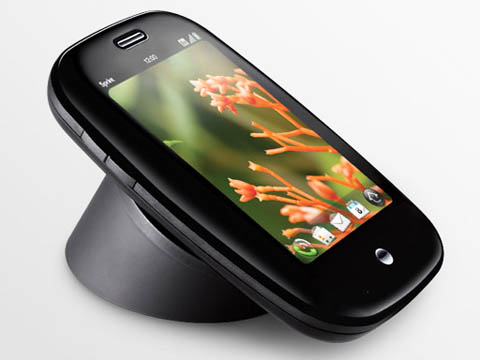 One of the few Palm Pre accessories now available: the nifty Touchstone wireless charger
Third-party apps: Don't make me laugh. Okay, make me laugh. "Bwah-hah-hah-hah-hah!"
Now that that's over with, let's admit that there's no competition in this category. The iPhone has over 50,000 third-party apps available in the iTunes App Store, and Palm hasn't even released a Pre SDK yet.
And, yes, many of the 50,000 apps in the App Store are crap, but many are great as well. Some companies are even creating their own in-house iPhone apps for such corporate fun as sales support and documentation. Medical uses are also appearing. Not every iPhone app farts.
Palm and its developer-support group have a long, long way to go before they even come within shouting distance of the apps available for the iPhone/iPod touch platform. And if they ever do, they're also going to need to spend some time rethinking Pre's App Catalog. It'll be browseable for a couple of hundred apps, max - not that the iTunes App Store is a walk in the park.
I'll be anxious to see how intelligent Universal Search will prove to be when accessing the App Catalog of the future.
Third-party-apps advantage: iPhone 3GS
The Bottom Line
In the 18 categories above, the iPhone 3GS came out on top in 10, the Pre in five, and three ended in a tie. But to give the iPhone the victory in this smackdown strictly based on the number of categories in which it rules would be doubly ludicrous.
Ludicrousness number one: Not all categories are equal. The Pre's multitasking capability is obviously more important than the iPhone 3GS's ability to record voice memos.
Ludicrousness number two: As I said at the beginning, webOS is in version 1.0x. Expect the Pre to gain in capabilities as its operating system matures - and expect updates to be free, as have been the iPhone's.
That said, if you're in your right mind you're going to buy only one smartphone. And today is today, and not a probable tomorrow when Palm works out the kinks in Palm Synergy and Universal Search, updates the Pre's UI to make it more discoverable, and nurtures a healthy and creative third-party ecosystem for not only apps but also accessories.
And who knows what advances the iPhone will embody during that time? Maybe even multitasking with a Mac OS X-esque Exposé interface.
So, if you're choosing between a Pre and an iPhone 3GS today, buy the iPhone 3GS.
But as Scarlet O'Hara foresaw, "Tomorrow is another day." ®