Dutch clotheshorse menaces plastic surgeon
'Blonde with Class' cuffed for 'vicious' nip-and-tuck objection
WSA Dutch clotheshorse Karen Mulder has been cuffed in Paris following a severe (alleged) derailing during which she laid into a plastic surgeon with "vicious telephone calls", as the Telegraph breathlessly puts it.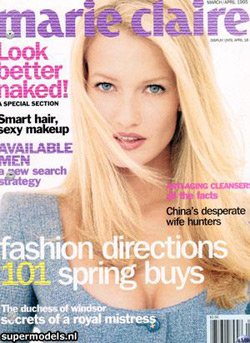 Those of you not up to speed on belligerent supermodel news are doubtless blissfully ignorant of the fact that Mulder, 39 (pictured upping the circulation of Marie Claire), was formerly one of the world's leading walking scaffolds for designer togs, rubbing shoulders with Helena Christensen and Linda Evangelista during a 1990s career which saw her trouser £10,000-a-day as the Vogue-dubbed "Blonde with Class".
Showing rather less than class, though, she was arrested at 10am today "following a complaint from the unnamed surgeon". Mercifully, la Gendarmerie spared her the humiliation of a B-list incarceration, casting Karen into the cells of a police station in the "hugely fashionable 8th arrondissement".
The rap sheet is thus: Mulder is accused of ringing the nip-and-tuck operative demanding an unspecified piece of enhancement be reversed. She was, according to a shaken French police geezer, "screaming and shouting about the operation and became extremely threatening".
He added: "There were repeated calls to the female surgeon who was extremely scared. The suspect is being interviewed."
The Telegraph notes that Mulder in 2001 "attended a psychiatric hospital suffering from chronic depression, blaming it on drug addiction during her modelling days".
A year later, she tried to top herself using sleeping pills, but "was rescued by close friends in Paris", including Sarko squeeze Carla Bruni.
According to the word on the street, Mulder faces a threatening behaviour rap, but will be released to battle Naomi Campbell in the El Reg Battling Clotheshorse Ring of Death™.* ®
Bootnote
*No, we invented this BlackBerry-sponsored bitchslap event, although we'd pay good money to see Kate Moss go head-to-head with fellow stick insect Agyness Deyn, née Laura Hollins of Failsworth in Greater Manchester.