Seagate shines under Luczo's law
New CEO broom sweeps clean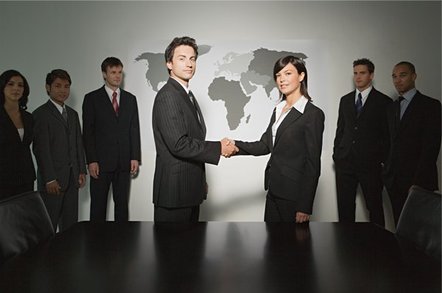 Comment Luczo's law seems to suit Seagate - it's just raised its quarterly revenue guidance.
Since ousting Bill Watkins six months ago in January, and retaking the CEO reins, board chairman Stephen Luczo has reshaped Seagate, cut costs, and regained 2.5-inch drive parity with Western Digital, if not leadership, positioning the company for a return to glory days.
Seagate's guidance for its fiscal fourth 2009 quarter, which closes on July 3, was $1.9bn - $2.2bn in April, and is now $2.2bn - $2.3bn, based on increased disk drive demand. The company was expecting demand in the quarter to be 114 million - it's now seeing demand for 120 million drives.
The company is also expecting its revenue to grow to between $2.35bn and $2.5bn in the following quarter, due to holiday and school pupil-based buying patterns. Combine this increased demand with better cost control, and Seagate is in much better shape than it was in January when Watkins went.
Continuing moves started under Watkins, manufacturing facilities have been rationalised, with excess capacity closed down. The Pittsburgh R&D establishment is being closed. Some thousands of staff have been fired. The consumer division president, Brian Dexheimer, was retired, with Terry Cunningham, the SVP for branded products now having overall responsibility for the retail products. The FreeAgent line is flowering and new backup and NAS products launched.
There are other signs of a tighter, more responsive Seagate. It's gone product crazy in the consumer, SOHO and SMB external drive space with new products positioned for the various segments its marketeers have discerned. There's the single drive Replica bare metal restore and backup drive for value-conscious consumers. There are colourful and stylish FreeAgent external drives for savvier prosumers, and BlackArmor 4-bay encrypted and shared NAS storage for SOHO businesses with brand extension to single drive PS and WS110 products.
These three brands have different packaging and different software; there are three different backup software products in there, for example. The marketeers have defined product needs by segment and then gone and got the added HW and SW components needed to wrap around the in-house hard drives and sell them at a healthier margin than through Seagate's OEM channels. The company rejects any suggestion that it is over-segmenting the market.
Seagate has also launched a 640GB FreeAgent Go drive, which is the first Seagate 2.5-inch drive to go past the 250GB/platter density level. Roughly speaking a 250GB/platter areal density at the 2.5-inch drive level equates to a 500GB/platter areal density at the 3.5-inch drive level.
The 2TB 3.5-inch drive that Seagate offers is a 4 platter unit with 500GB/platter. So we might expect a 3.5-inch drive with a 640GB/platter density, meaning a 4-platter 2.56TB model, if Seagate's marketeers determined a need for it. The areal density increase is not quite enough to permit Seagate to build a 3-platter, 2TB drive and hence save a large chunk of change from the current 4-platter unit cost, only enabling a 1.92TB model. So near to the 2TB level but so far; that cost-saving is untenable.
It's possible that, with Seagate in much better shape and the recession looking as if it could be starting to move into a recovery phase, that Luczo will look to recruit a new permanent CEO and return to his previous chairman-only position. It could be an internal promotion or he could look outside Seagate.
Maybe Dave Mosley, the exec VP for sales, marketing and product line management is in the frame, with a CV including manufacturing and operations experience. Let's suppose Seagate doesn't fluff its SSD introduction later this year, and his chances could be good. ®