Sonim S1
The Land Rover of rugged phones
First Look The iPhone 3G S or Palm Pre are fine for city-dwellers, but if you live a more rugged lifestyle then you'll need a handset capable of keeping up - come rain or shine, literally.
And, at a recent launch event near Birmingham, Register Hardware was thrown a handset so tough that its manufacturer – Sonim – decided that only two ultra-rugged sponsors would do: explorer Sir Ranulph Fiennes and car firm Land Rover.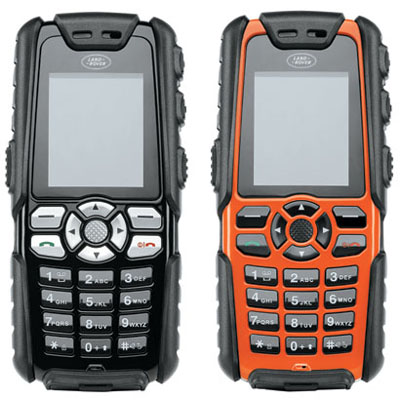 Sonim's S1: Hard as nails, but low on features
Sonim's been making rugged mobile phone for several years now, but the S1 is its latest attempt at merging ruggedness and decent features into a device that'll withstand conditions harsh enough to kill an iPhone.
Proving the S1's durability was no problem for Sonim, which strapped the phone to various parts of a Land Rover – including its front bumper and wheels – and then ordered the phone to be driven through knee-deep muddy waters, across driving courses for four-wheel drive cars and through a jet wash.
But the S1's body didn't even waver and – while still strapped to a Land Rover's wheel – was even still able to relay a call to Sir Ranulph over Bluetooth.
However, we did have one minor niggle.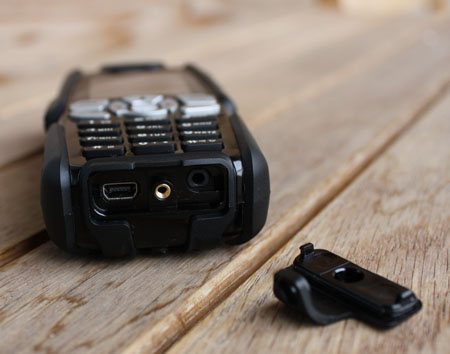 The S1's detachable port cover could cause problems
The phone's headphone jack and Micro USB port are covered by a rubber flap that can be opened by a fingernail – unlike the phone's battery, which is sealed in by two meaty screws.
In our opinion, the flap is the phone's weakest point. Why? Because despite the S1 being able to withstand a 30-minute dunk in up to 1m of water, it's sod's law that you'll leave the flap just slightly ajar the one time you drop the phone into a pig's trough.
Sonim's obviously thought long-and-hard about the S1 aesthetics, though. The phone's buttons are well sized and have enough space between them to ensure that you can dial a telephone number while wearing even the thickest of gloves.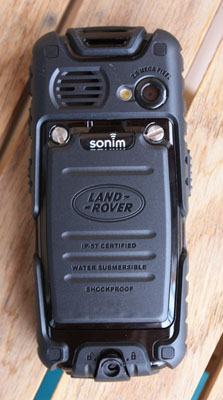 An extra-loud loudspeaker rests beside the camera lens
The S1's screen isn't great, though. Despite Sonim telling us that the phone's display had been treated with an anti-reflective material, we still found it hard to read the screen in bright sunlight.
On the plus side, the edges of the S1's heavily rubberised body are high enough to ensure that you won't scratch its display if you inadvertently put the phone facedown onto broken glass.
Other parts of the phone's outer body also combine to make the S1 a solid choice for the outside professional. For example, there's a hook for tying the phone onto a lanyard and an extra-loud loudspeaker to ensure you hear the phone ringing while it's in the glove compartment.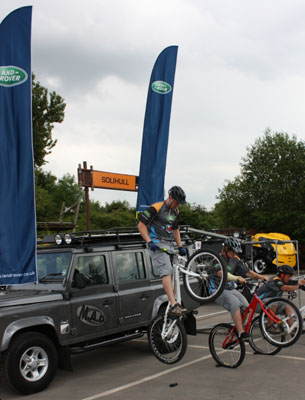 But even mountain bikers couldn't crush the S1
Sadly, though, the S1's technical features are – much like Sonim's previous handsets – where things start to go down hill.
Despite sporting a 2mp camera, Assisted GPS and an 18-hour talk time, the S1 still has a clunky and dated UI that wouldn't seem out of place on a Nokia phone from 2001.
The S1 only supports tri-band GSM and Edge – not that you'd stand much chance of getting a 3G signal in deepest, darkest Dartmoor.
MP3 files are supported by the S1, but it's hard to imagine anyone pulling off their gloves at the end of a long day working on a building site and fumbling around with a filthy handset, just so they can listen to a couple of songs while out in the wilderness.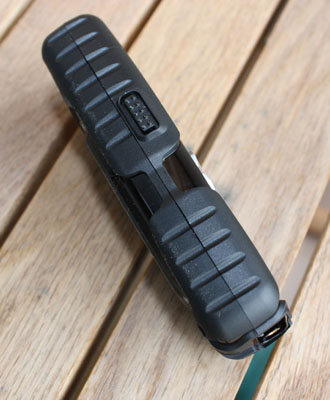 Chunky...
So, is the Sonim S1 for you? Not if you value entertainment more than ruggedness. But if you're a rock-climbing enthusiast, farmer or builder then, it's a definite yes.
The Sonim S1 is available now in the UK, priced at around £300 ($492/€355). ®