Buzz Aldrin gets down with Snoop Dogg
Rapping Moon geezer in charity Rocket Experience
Buzz Aldrin has rather agreeably, if improbably, teamed up with Snoop Dogg to flash his rapping skills on Rocket Experience - a track to commemorate next month's 40th anniversary of the first Moon landing and in support of the lunar geezer's ShareSpace foundation.
The result won't be giving Eminem any sleepless nights, but it's good clean fun. Mr Dogg (pictured below with Aldrin) was assisted in sharing the Rocket Experience with the world by producer Quincy Jones and fellow rapstas Soulja Boy and Talib Kweli.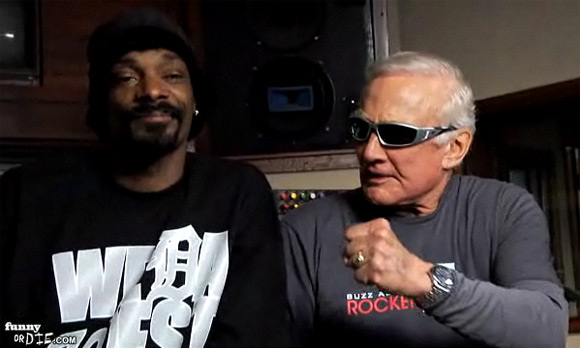 As well as the video for the song, there's a "making of" vid in which Aldrin declares: "I have only two passions: Space exploration and hip-hop."
Buzz's gangsta credentials are, of course, rock solid. In 2002, he legendarily took exception to filmmaker Bart Sibrel, a serial Moon landing sceptic who rather foolishly decided to accuse the astronaut to his face of never having actually walked on the lunar surface:
®
Sponsored: How to get more from MicroStrategy by optimising your data stack