Hero: HTC names third Android smartphone
Enough to rival the iPhone 3G S?
HTC has taken the covers off of its third smartphone based on Google's Android OS. But does the firm's latest phone sport sufficient features and a decent enough UI to shake the foundations at iPhone 3G S HQ?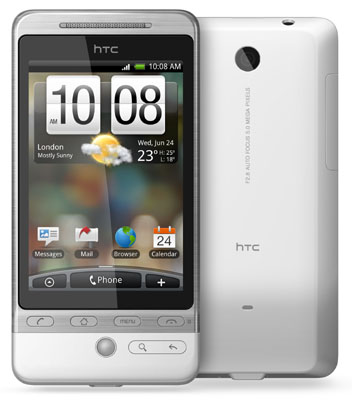 HTC's Hero: an Android phone running HTC's own Sense UI
The first thing to mention about HTC's new phone – called Hero – is that although it runs Android, HTC has layered its own interface over the top. This UI, called Sense, is said to provide "an intuitive and seamless experience" for users.
When Register Hardware played with Hero at its London unveiling earlier today, we discovered that while the UI looks and feels like Android, HTC's Sense layer adds extra functionality to the device wherever it can.
For example, you can access email, text messages and Facebook updates from one person from within a single address book-like application.
Hero itself looks like the result of a one-night stand between HTC's existing G1 and Magic handsets, but is a good deal slimmer: 112 x 56 x 14mm.
Hero also has a 15° curve running through its body that HTC claimed makes the phone perfectly shaped for holding in your hand and against your face.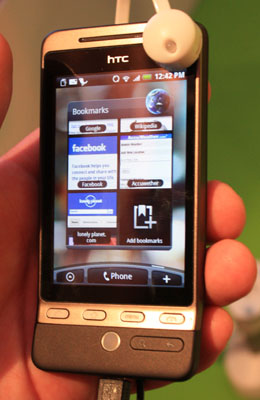 Bookmarks appear as web pages on Sense
Hero's 3.2in, 320 x 480 touchscreen isn't unique, and neither is the anti-fingerprint coating HTC has added to the phone's screen. The iPhone 3G S likewise has an "oleophobic" layer.
A Teflon coating apparently also gives the phone a durable white surface that's soft to the touch - and won't get bits of fried egg stuck to it, presumably. We didn't have long enough with Hero to test the durability of its body, but it didn't feel any softer to touch than a normal smartphone.
Everything else on Hero is pretty much as you'd expect from a high-end HTC handset. The phone has a 5Mp camera with autofocus and is equipped with Assisted GPS, ensuring that the phone's Footprint application can help geo-tag every image you snap.
HTC said Hero can hook itself up to the web through Wi-Fi 802.11b/g or at up to 7.2Mb/s over an HSDPA 3G connection. The phone's also quad-band GSM enabled, the firm added.
Hero doesn't have any user-accessible storage, but will accept Micro SD cards. HTC added that Bluetooth 2.0 support is included on Hero.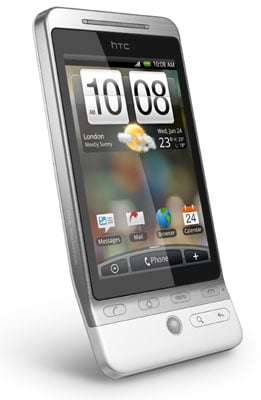 Available in Blighty next month
Hero's "Digital Compass" suggests HTC plans to market its latest phone as a direct rival to the iPhone 3G S, which also includes a digital compass.
HTC's Hero will be available in Europe next month through T-Mobile and Orange. Price plans haven't been unveiled. A North American Hero rollout is planned for later this year. ®
Latest Smartphone Reviews