AT&T punts not-free iPhone nav app
Ten bucks a month for turn-by-turn
AT&T has released a free turn-by-turn iPhone navigation app - but to actually use it, you'll have to pay ten bucks a month.
AT&T Navigator (iTunes link) is being distributed - and billed - by AT&T Services, but it's powered by technology from cell-phone navigation veteran TeleNav.
AT&T already offers the Navigator service for many of its phones, including models from Samsung, LG, Nokia, Sony Ericsson, and others. In addition to the US version, a Global Edition is also available, with support for the UK and 25 other countries and areas.
As with the other Navigator deals, the $9.99 fee for the new iPhone app will be added onto your monthly AT&T bill.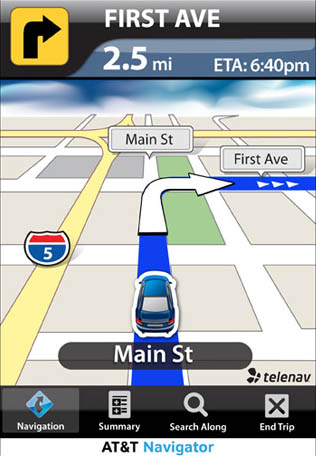 This will cost you $10 a month
With the release of iPhone software 3.0 and the new iPhone 3GS, a number of companies are also planning turn-by-turn navigation apps for the iPhone. TomTom, for example, announced its forthcoming iPhone 3.0 app and car kit at Apple's recent Worldwide Developers Conference.
AppleInsider recently reported that "a trio" of turn-by-turn navigation companies would be offering iPhone apps, citing TomTom and AT&T supplier TeleNav and adding Navigon to the interested parties. AppleInsider was told by a Garmin spokesperson, however, that that company has no plans to join the party.
Currently, XROAD's G-Map U.S. East and West (iTunes links) turn-by-turn navigation apps are also available, but their latest version, 1.3, has met with mixed reviews. ®