HTC Touch Pro2
The Windows Mobile iPhone antidote?
The camera has a maximum resolution of 2048x1216, but edging and detail weren't as good as we might have expected for 3.2Mp and results soon suffered in less than perfect light conditions. The panorama feature makes it easy to align three pics to blend into a single, wide shot, but needs some precision or it all too easily shows stitching errors.
Sample Shot

Panorama stitching alignment could be better
It records video in MPEG-4 format at 640x480 pixels and 25fps. Even so, our videos proved too prone to blurring with movement for our liking. Viewing pictures proved to be more fun than taking them. You can see your pics as a slide show by brushing your finger across them in the gallery, and magnify them using the zoom bar.
Windows Media Player is the Pro2's player of choice and the formats on offer are AAC, AAC+, eAAC+, AMR-NB, AMR-WB, QCP, MP3, WMA, WAV, MIDI and M4A for audio, with WMV, ASF, MP4, 3GP, 3G2, M4V and AVI for video. The large, detailed screen is great for viewing clips, though they won't necessarily take full advantage of the screen's dimensions – widescreen movie trailers in both WMV and MPEG-4 formats received black bars top and bottom. Some videos we tried wouldn't play at all, since the device won't automatically configure them for the player.
However, streaming media such as YouTube, gets the full-screen treatment and works well on the YouTube app. Incidentally, the Touch Pro2 won't play Flash video out of the box, although Flash 7 Player features as a download for use with Internet Explorer on the applications section of HTC's web site. The Pro2 also has Opera, which we prefer for its speed and ease of use. With either browser you can move around pages by brushing the screen and the zoom bar is great for focussing in on smaller items of text.
The onboard accelerometer automatically switches to landscape when you turn the Pro2 on its side, athough it doesn't seem to be able to do this in all applications. There's an RSS hub for keeping up to date with your favourite sites and also HTC's 'Push Internet', which allows you to set up your favourite pages to download automatically, so you can retain and read them later when you haven't got network access.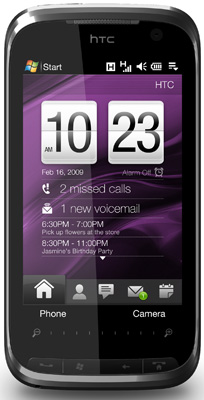 Satnav software is extra, as is a microSD card
The A-GPS with Google Maps worked fine, though there's no Street View on the version supplied. There's no satnav software on board either, not even a trial version, though some retailers are offering deals with satnav options preloaded – you'll pay extra though.