British boffins ditch spinning media for ultra-fast storage tech
Not SSD, not HDD. Say hello to 'Hard Rectangular Drive'
Could this be the storage tech that replaces hard disks and supersedes solid-state drives? UK-based developer DataSlide believes so, claiming to have the others licked with magnetic but non-rotating system it's calling Hard Rectangular Drive.
DataSlide's technology centres on a sheet of magnetic material mounted beneath a laminate read-write 'head'. The media layer is double-sided, so there's a second read-write sheet beneath. All three layers - and, presumably, more sets above and below them - fit inside a standard 3.5in drive casing and are sandwiched with lubricant.
The read-write layer comprises a grid of millions of read-write heads created using the same lithography process used to make silicon chips. Each head is controlled by sending a signal along the appropriate row and column of the grid.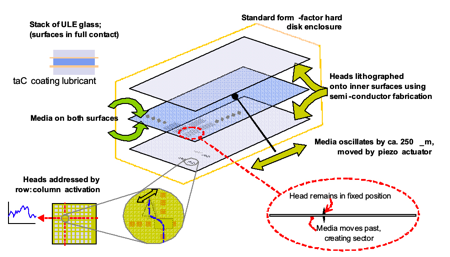 Inside HRD
There's not, however, a 1:1 correspondence between head and data bit on the media layer. Instead, the middle part is moved in the horizontal plane by piezo-electrics to allow a head to read a selection of bits, grouped as a sector.
Multiple heads mean muliple points of data can be read in parallel, though we'd note that the more the media layer moves for as one head tracks a sector, the less other heads will stay within their own sector bounds meaning they can't be used until the media's in the correct position for them.
Indeed, DataSlide admitted that right only 64 heads can read or write simultaneously.
DataSlide claims that the technology can achieve 160,000 randow read/write IOPs and a 500MB/s transfer rate. It also says the whole system consumes a tiny 4W of power - a third of the power consumption of a 15,000rpm HDD, it said, and half that of a typical SSD or mobile drive.
More to point, it said, to get 100,000 write IOPs out of a hard disk set-up, you'd need 280 disks. Since each consumes 12W, that's 3360W in total - compared to the 4W from the one HRD that can deliver the same IOP score.
DataSlide's principals are storage and silicon industry veterans working with private investment cash. It said it is working to bring the technology to market by licensing it to storage manufacturers and others, though it's not yet naming names. It hasn't said when HRDs might appear in systems. ®