Shuttle XPC SX58H7
Monster CPU, miniature chassis
Review Shuttle has managed a feat of engineering with the XPC SX58H7. It has shoehorned a Core i7 motherboard into a small(ish) form-factor case - it measures 325 x 208 x 189mm - of the kind we've seen on models such as the SP45H7.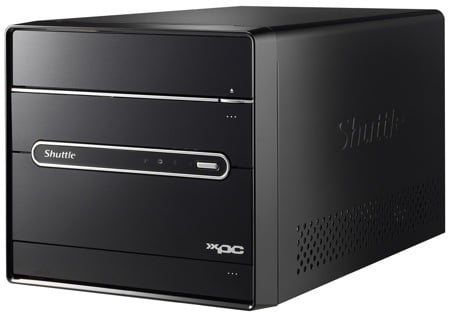 Shuttle's XPC SX58H7: engineering miracle?
It is the work of moments to remove the main cover, drive bay, ICE fan unit and CPU cooler, and lay the innards open to view. The layout is similar to other XPCs, although this is the first time that we have seen twin PCI Express graphics slots in a Shuttle. It's not the first time Shuttle has used this feature as you can see from the spec of the SX38P2, but it is the first time we've seen it on our test bench.
The two graphics slots are positioned very close together so you have the choice of installing two single-slot graphics cards, such as an AMD ATI Radeon HD 4850, or one double-slot card. Shuttle provides a six-pin and an eight-pin graphics connector so you can choose either configuration. But we have concerns about using two graphics cards as the airflow around the outermost card will be restricted. During our testing, we used an ATI HD Radeon 4890 which is a beefy double-slot graphics card and it behaved flawlessly.
The inclusion of two graphics slots mean there's no room for a PCI slot. This may limit the scope for upgrades. Shuttle includes a list of features that is fairly typical of any X58 motherboard, with six USB ports on the rear, dual Gigabit Ethernet, five analogue mini jacks and optical S/PDIF. In addition, there are two eSata ports and a power point that accepts a Sata power adaptor cable so you can connect a regular internal Sata drive.
On the front of the SX58H7, the drive bays and ports are hidden behind stealthed doors. There is one 5.25in optical drive, one 3.5in external bay - even though there is no floppy drive connector - and a row of ports to provide one eSata and two USB ports, and two jacks for a headset.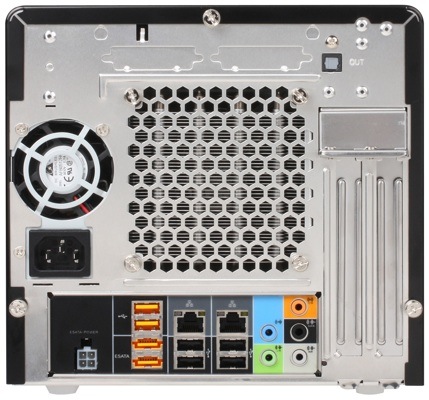 You want ports, we got 'em...
It's clear that the designers have worked hard to keep the area around the Core i7 socket as clear as possible. Take the 500W power supply as an example. It measures 200mm long and 82mm tall and is about 50mm thick, so it's only one third the size of a regular desktop power supply. By any standard, that's impressive but Shuttle has gone a step further and has given the PSU a tapered shape. It steps down from a thickness of 51mm at the rear of the case to 45mm at the front of the unit so the PSU is able to accommodate a 50mm cooling fan at the rear while providing clearance at the front for the CPU cooler.