Man dressed as dead mother to scam $1m
'I am not Norman Bates', insists cuffed fraudster
A 49-year-old Brooklyn man faces up to 25 years' jail for allegedly dressing as his dead mother to scam $1m in benefits and loans, the New York Daily News reports.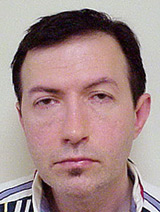 Thomas Prusik Parkin (pictured) adopted Irene Prusik's identify following her death in 2003, the Brooklyn district attorney's office claims. Dressed in "wig, makeup, nail polish and long, red dresses", he and alleged accomplice, 47-year-old Mhilton Rimolo - who posed as his nephew - managed to collect "$62,000 in Social Security payments and $65,000 in state rent subsidies".
Parkin also secured a $938,250 mortgage on his mother's former house - despite the fact it was owned by someone else, who'd bought it following foreclosure in 2003. He'd avoided eviction by filing "a flurry of legal actions in which he posed as his mother", and successfully held off the bailiffs until city marshals evicted him and his brother in May.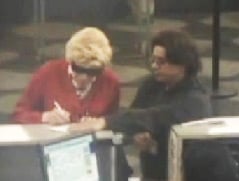 The elaborate scam finally came to an end when Parkin was arrested after attempting to renew his mother's driving licence at the Brooklyn Department of Motor Vehicles. A security camera captured him and Rimolo red-handed (see pic).
When he was cuffed on Monday, investigators presented Parkin with clear evidence he was not his mother, in the form of a photograph of her grave.
Parkin was indicted yesterday on 47 counts of grand larceny, forgery and conspiracy. He and Rimolo pleaded guilty and were held in lieu of $1m bail. Brooklyn DA Charles Hynes admitted: "This guy is not stupid; this guy is very smart. His schemes were brilliant."
Regarding the inevitable Psycho comparisons, Hynes clarified: "He said he's not Norman Bates."
However, Parkin allegedly told detectives: "I held my mother when she was dying and breathed in her last breath, so I am my mother." Furthermore, The New York Daily News has now revealed that the marshals who evicted him from his house discovered "a casket in his living room". The paper concludes it's "unclear why Parkin had the coffin".
The New York Daily News has more details on Parkin's elaborate scam here. ®
Sponsored: Quit your addiction to storage