Microsoft to pitch 'all-you-can-eat' Windows volume license
Save now, pay later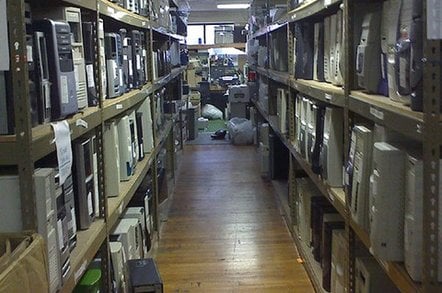 Microsoft will next month encourage partners to promote all-you-can-eat volume licensing so that large customers can save money while consuming more SQL Server and Windows apps.
The company's Application Platform Agreement (APA) targets customers with more than 250 PCs who are trying to cut their number of software suppliers and who plan to spend more than $300,000 on Microsoft's SQL Server during the next three years.
APA will let customers deploy an unlimited number of qualifying applications for a "pre-determined fee," Microsoft said. Partners must work with their Microsoft account manager to determine the products customers want and the annual fee they'll be charged.
Applications available under APA include all editions and license types of SQL Server and BizTalk Server; all editions of Office SharePoint Server 2007 excluding server-only licenses; all editions of Visual Studio Team System; and server licenses of System Center. APA is only available to companies and government organizations on Microsoft's volume-licensing programs, meaning you need to run more than 250 PCs
APA does not extend to the thorny subject of client access licenses (CALs) on Office SharePoint Server and System Center. CALs can help bump up costs because they are based on the number of devices you think will be accessing the server version of the Microsoft software you're running.
All-About-Microsoft blogger Mary Jo Foley hit on APA here, and you can read more from Microsoft, who will discuss APA at its annual Worldwide Partner Conference (WPC), here.
APA was launched last year. In mid-July, Microsoft will use WPC in New Orleans, Louisiana to promote the program among its all-important partners.
This is Microsoft's second offer on some of these products. Microsoft in March offered 15 per cent off licensing of SQL Server and SharePoint 2007 as part of a broader set of cuts of up to 25 per cent on versions of its Windows server and communications products.
Microsoft's worldwide partner group corporate vice president Alison Watson last year described APA as a way to standardize customers on SQL Server for their entire database needs. The immediate goal is to make customers more dependent on SQL Server. It drives up their transaction needs as they slowly load on more applications - without bumping up their licensing costs through the need to buy additional SQL Server licenses.
In some ways, Microsoft is looking to avoid the fate of database market leader Oracle. Customers have been turning to alternative data architectures and providers, such as Terracotta, to keep up with their needs without having to pay for additional expensive Oracle licenses.
Ultimately, the idea is to guarantee the long-term future for the family of interconnected applications like BizTalk and SharePoint that rely on SQL Server, as customers look to reduce their number of IT suppliers while currently dealing with reduced IT budgets. Getting more of the underlying data and transactions out of databases like Oracle and into SQL Server is designed to help that. ®