First plug-in Prius paraded by car rental firm
Streetcar adds socket to Toyota's motor
Leccy Tech Car rental club Streetcar has added what is believed to be the UK's first plug-in hybrid electric Toyota Prius to its rental fleet.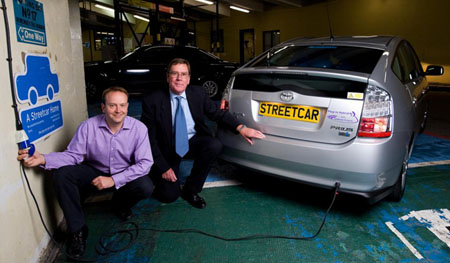 Streetcar's plug-in Prius: destined for London-based rentals
The Prius was modified for Streetcar by Grantham-based firm Amberjac, which removed the car's standard nickel-metal hydride battery pack and replaced it with a larger lithium-ion unit.
Amberjac also added all the various cabling and connectors required to turn the Prius into a fully fledged plug-in hybrid.
A standard Toyota Prius can only manage a few miles when relying solely on battery power, but Amberjac's changes mean that Streetcar's model will happily cover 35 miles on a full charge.
After that distance, the Streetcar Prius' petrol engine kicks in to provide the motoring power – at which point, of course, the car performs like a standard Toyota Prius.
Streetcar said the car will be based at the Bloomsbury Car Park in Holborn, Central London. Rentals will kick off from next week and a power point will feature in the car's parking bay, the firm added.
The rental firm's also promised that if the Prius proves popular, more e-cars will be added to the fleet.
Encouraging car rental clubs to adopt e-cars is part of London Mayor Boris Johnson's ongoing campaign to make London the leccy car capital of Europe.
So it'll come as no surprise that Camden Council and Transport for London contributed to Streetcar's Prius project, which is thought to have cost around £9000 ($14,761/€10,648) in Amberjac conversion costs alone. ®