Minority Report command sales system pushes Euro UAV
Touchscreens: Combat maybe, marketing for sure
Paris Airshow Continental aerospace colossus European Aeronautics Defence and Space (EADS) says that touchscreen interfaces aren't just for iPhones and people in movies. They're for everyday, mainstream present-day applications, such as controlling enormous killer robots in the sky.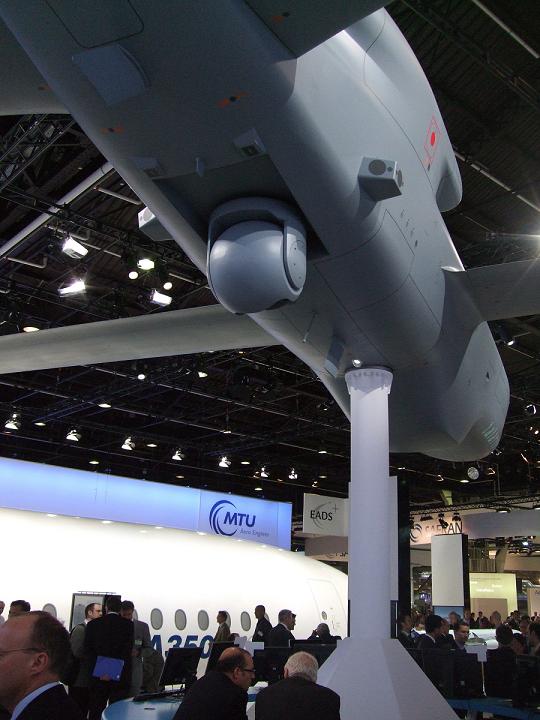 Aerospace/Defence Industry: Reinventing wheels every day.
Here at the Paris Airshow, EADS is displaying a full-size mockup of the "Talarion" heavyweight unmanned aircraft that it thinks European governments should buy instead of rivals such as the new General Atomics Avenger or the Mantis under development in Britain.
As part of the Talarion sales push, EADS has also put together a concept "TouchLab" demonstrator for a future control station. They include some future simulated missions, designed to show off the aircraft's abilities. Aviation Week Show News reports that TouchLab "represents the UAV control of the future ... using advanced 3D real-time graphics [it] features the largest MultiTouch Table in the world".
We had to get a look at that. This morning, Fabrice Gonfalone, systems architect for EADS Defence & Security, talked the Reg through it. EADS describe the TouchLab as an "Interactive Presentation Environment", and as such, one might surmise it's really more of a sales tool than an actual control system. Like Tom Cruise in Minority Report, one stands in front of the definitely quite large touchscreen, in control of a nominal Talarion.
As the UAV's ground-sweeping radar scans the simulated Afghan hills below, radar blips appear. You touch them, and immaculate video of a suspicious-looking pickup truck pops up. Another icon tapped, and the vid is uploaded to command HQ via satellite uplink (presumably you have line-of-sight relay in the "control station", as you're seeing it already.
Another touch, and Talarion's laser designator locks a dot onto the vehicle. Another, and gratuitous 3D graphics depict the aircraft swivelling around and releasing weapons. Blammo.
So, is this really the future of UAV control?
"Well, it's a time of some years," says Gonfalone. "We would have to work with a customer for details."
It would certainly be a rather unusual customer who wanted a control system designed around an interactive game based on sci- and spy-fi movie depictions of control systems. Here the arms industry seem to be imitating art imitating themselves. The "TouchLab" also has other interactive sales games, intended to shift products in other EADS fields like homeland security.
So no, it's not the future of UAV control. It might be the future of high-margin tech sales, though.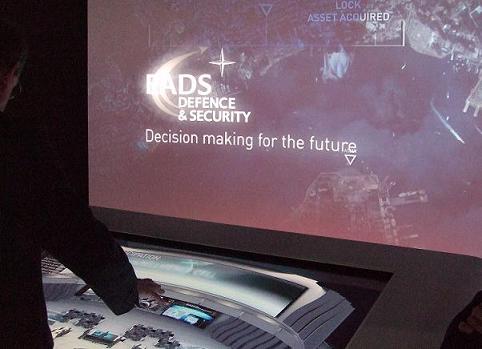 Powerpoint? Bah.
Still, perhaps it really is the largest touchscreen in the world?
"Oh, I'm not so sure about that," says Gonfalone. ®
Sponsored: Detecting cyber attacks as a small to medium business