Toshiba Regza 37AV615DB
Big screen, small price
Review Many of you will no doubt throw up your hands in horror at the thought of buying a mere 'HD Ready' television, rather than a 'Full HD' model. However, the fact of the matter is that most owners of HD televisions still spend most of their time watching ordinary SD television programmes or DVDs, so it doesn't make a huge difference whether their set offers the HD Ready 720p resolution or Full HD at 1080p.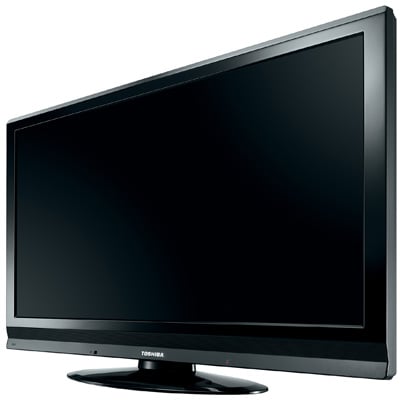 Toshiba's Regza 37AV615DB LCD TV
Of course, you don't want to buy a set that will need to be replaced in a couple of years time if Blu-ray or Freeview HD really start to hit mass-market adoption levels, but a 720p set can still provide good HD picture quality even when converting 1080p content down to 720p. So if all you want is an affordable flat screen TV to replace an aging CRT, then an entry-level model such as Toshiba's Regza 37AV615DB could fit the bill nicely.
Priced at £500, the 37AV615DB is the largest model in Toshiba's AV61 range, and browsing a few online retailers confirms that it is, indeed, one of the cheaper 37in screens currently on sale. Toshiba has also launched 26in and 32in versions as well, priced at about £350 and £399 respectively, with all three models sharing the same 1366x768 resolution.
It doesn't make a great first impression as you lift it out of the box. The plain black plastic panelling looks fairly nondescript, but seems rather lightweight and flimsy. However, it did survive being dropped off the back of the van when it was delivered to us, so the build quality can't be that bad.
A quick look around the back of the unit reveals a Freeview TV tuner, two HDMI interfaces, component video, two SCARTS, and VGA interface and audio input for connecting a PC – although we hooked up our Mac Mini easily enough using a DVI-to-HDMI adaptor. There's a third HDMI interface on the left-hand edge, along with composite video and stereo inputs, headphone socket and CI slot for Pay-TV cards, while the right-hand edge holds a simple control panel for turning the set on and off and selecting channels.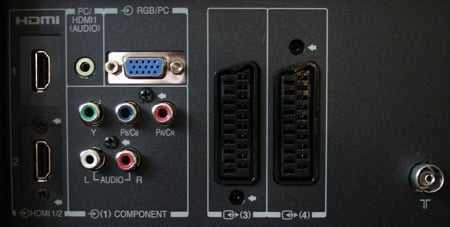 The usual sockets: additional interfacing is available from the side panel
That array of connectors should be adequate for most people, and we had no problems hooking up our test rig of TV aerial, Sky+ box, HD-DVD player and Mac Mini. The initial set-up process could have gone a little more smoothly, though. The manual indicated that an 'Initial Setup' menu should appear automatically when you turn the set on for the first time. Unfortunately, all we got was a message telling us to 'please scan for channels', without indicating how to begin the scanning process.