Tube Deluxe 3.1
iPhone download in 'ruddy useful' shock
iPhone App Review London has arguably one of the best public transport systems in the world, but it's easy to take it for granted. You get used to trains running regularly, making it even more annoying than it might otherwise be when they don't.
So often, Londoners metaphorically slap their foreheads and berate themselves for not checking before they left the house. We generally don't think to do so, but with the iPhone you can check for travel trouble even when you're walking to the station.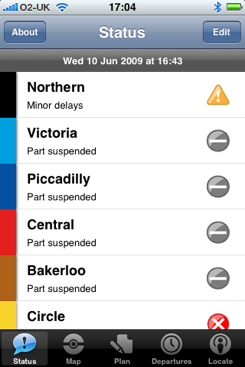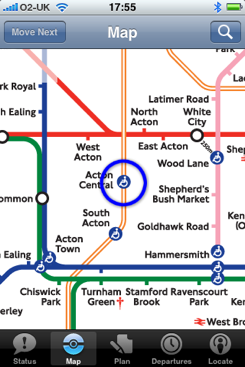 Tube Deluxe's Status and Map panels are nicely implemented
You can look up the Transport for London web site in Safari, but Malcolm Barclay's Tube Deluxe is better. Originally offered as free utility that just tapped into Transport for London's online status feed, the full app offers some much more useful stuff. And it's only 59p.
Tube Deluxe provides the expected tabs for its Status readout and the tube map, the latter with the now-TFL run overground lines, but not Network Rail's track. The map scrolls smoothly at a touch and a search button helps you zero-in on stations. The line-by-line Status list shows you clearly if there's a problem - just tap for more details - and you can reorder the list to put your most frequently used lines at the top.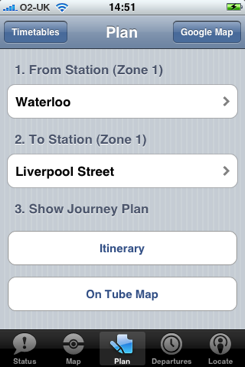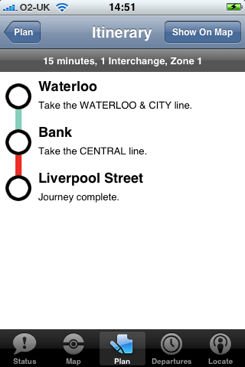 The journey planner's good but not a killer feature
The Departures tab is less useful since timetables are something of a nebulous concept as far as the Tube goes. Knowing that trains from, say, Kentish Town to the Angel should depart every two minutes doesn't mean you need to leave the office a minute early.
The journey planner tab is slightly more handy, but again, you can do it yourself more quickly simply by looking at the map, which is what it was designed for. And you can do it through the TFL website, though Tube Deluxe is better at taking into account what the Status tab is showing.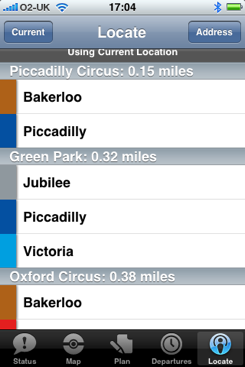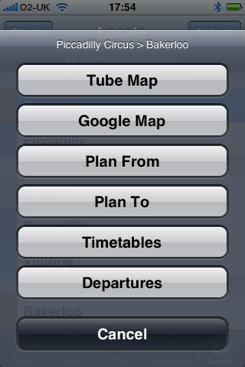 The Locate feature is worth the asking price alone
If you want to see why your 59p is well spent, use Tube Deluxe's Locate tab. This is something you can't do in a web browser and is a perfect application for a mobile, connected device. It uses your location as provided by the iPhone 3G's GPS pick-up or the original model's triangulation and tell you, in order, the nearest tube stations and roughly how far away they are. Tap on a station and up comes a list of options, the most useful of which will highlight the place on either the tube map or in Google Map.
This is ideal for the times you're in an unfamiliar part of town and you want to hot-foot it to the nearest underground station.
Grumbles? It's a little tardy starting up, and the Departures tab's list of stations should have address book-style alphabet headings - it's generally quicker than keying in a station's initial letter. But we can put up with these for the price of a packet of Monster Munch.
All we need now is Wi-Fi and/or cell coverage in the Underground... ®

We'll be regularly reviewing iPhone apps - and, in due course, Android downloads - alongside all our ongoing hardware review coverage. Got a favourite app you'd like us to cover? Let us know with a comment...

Tube Deluxe 3.1
As cheap as it is useful, buy this app if you're travelling to the capital. If you live here, you should have it already.