Buffalo Terastation III
The paranoid user's Nas of choice
Review Heading Buffalo's Terastation range of Nas boxes, the new Terastation III is aimed at demanding users and businesses. It certainly feels heavy duty, weighing in at 6.3kg with a locking door to secure its drive bays.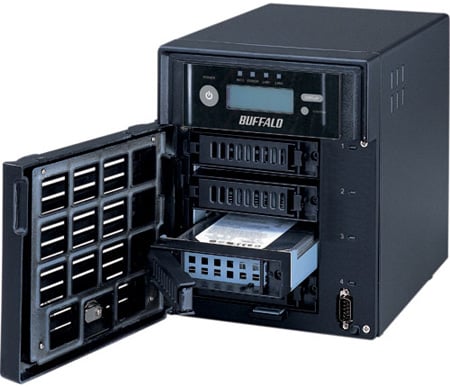 Secure storage: Buffalo's Terastation III
A greyscale LCD on the front reveals a variety of information including disk status, usage, Raid type, Ethernet speeds and host IP address – you can even configure what is displayed using the browser-based control panel. This monitoring feature, together with the two Lan ports round the back, suggest a Nas box intended for serious users.
We tested the entry 2TB model which, like all other Terastation IIIs, comes with four hard drives. In this instance, four 500GB WD Caviar Blue drives. That seems wasteful when you could fit two 1TB drives or even a single 2TB drive, leaving empty bays for future upgrades and keeping energy consumption down. However, hard drives fail. And at a rate of 2-4 per cent per year according to a 2006 Carnegie Mellon University study, with even more drives going to the grave after five years. Reason enough to opt for a Nas with multiple drives.
Indeed, even the most paranoid user will be satisfied with the Terastation III's backup features. Configured in Raid 10, you get a 1TB capacity on the 2TB model. With this setup, two drives can fail and still no data loss. More measured users will opt for Raid 5, which is the Terastation III factory default. In Raid 5, you lose the capacity of one of the drives, but if one drive fails, your data is still safe.
Internal drives can be swapped out without even turning the Terastation III off and external hard drives, as well as printers, can be added using the two rear USB ports – surprisingly, an eSata port is absent. Unlike many other Nas drives, there's an option to share media on USB drives with NTFS and Fat32 drives being accessible without reformatting.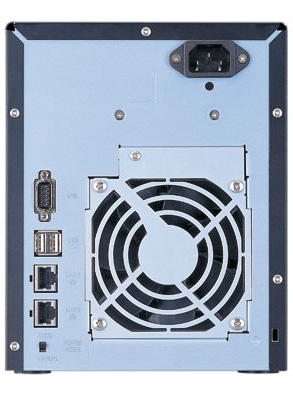 Two Lan ports and USB, but no eSata
Buffalo has included a rich range of applications on CD to supplement the Terastation's own embedded software. PC backup is handled by Memeo AutoBackup, while Mac users can opt for Memeo or Mac OS X's Time Machine. An application to find and configure the Nas drive, called NasNavigator2, is also included.
Sponsored: How to Process, Wrangle, Analyze and Visualize your Data with Three Complementary Tools