F1 waves goodbye to KERS
Cars to ditch kinetic drive tech for 2010 season
Leccy Tech Formula 1 racers must ditch Kinetic Energy Recovery System (KERS) technology before next year's season, the Formula One Teams Association (FOTA) has decided.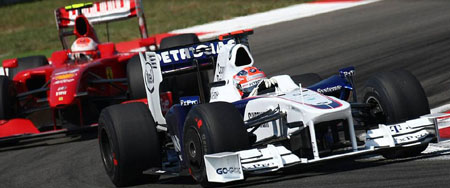 BMW Sauber (front) and Ferrari both spent time developing KERS, but with little reward
KERS enables F1 cars to store 60kJ of energy while powering through races, with the energy then released over 6.7 seconds per lap. However, FOTA's member teams – including Ferrari and McLaren – agreed to abandon the technology for the 2010 season during a meeting at the recent Turkish GP.
It's believed that several factors led to FOTA's decision. For example, the technology adds roughly 35kg to each car - which has to be compensated for elsewhere to keep the cars to the regulation weight - but reliability and brake balance have rendered any performance advantage marginal at best.
Engineers from Mercedes-Benz's road car division also signed KERS' death knell when they professed themselves wholly unimpressed by the technology and declared that they could see no use for F1-style KERS on road cars.
BMW Sauber, Ferrari and McLaren are known to have spent many hours developing KERS. But it's worth noting that all three teams have also underperformed massively in the 2009 season to date.
In recent races, BMW Sauber and Renault opted to run their cars without KERS.
Meanwhile, Brawn GP and Red Bull Racing – neither of which spent any time with KERS – have both performed exceedingly well this season. A coincidence? Possibly. ®