Endeavour 'in really good shape to fly'
Shuttle launch to ISS tomorrow
NASA has declared space shuttle Endeavour "in really good shape to fly" for tomorrow's slated blast-off on the STS-127 mission to the International Space Station - the 23rd ISS construction mission.
Endeavour will depart Launch Pad 39A at 11:17 GMT carrying the Kibo Japanese Experiment Module Exposed Facility and Experiment Logistics Module Exposed Section. This third Kibo assembly trip concludes work on the Japan Aerospace Exploration Agency's (JAXA) orbiting science lab.
On board for the trip are pilot Doug Hurley and commander Mark Polansky (front row, left and right), along with (back row L-R) astronauts Dave Wolf and Christopher Cassidy, and mission specialists Julie Payette of the Canadian Space Agency, Tom Marshburn and Tim Kopra.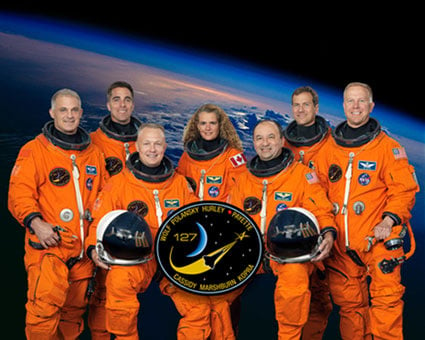 STS-127 features five planned spacewalks to fit the Japanese lab extension. NASA elaborates: "The facility will provide a type of 'front porch' for experiments in the exposed environment, and a robotic arm that will be attached to the Kibo Pressurized Module and used to position experiments outside the station."
At the end of the 16-day mission, Tim Kopra will remain aboard the ISS as a flight engineer and science officer, while Japanese astronaut Koichi Wakata - who's been aloft since arriving aboard Discovery on STS-119 mission back in March - will return to Earth on Endeavour.
NASA has the main STS-127 site here, a mission overview here and a mission summary here (pdf). JAXA's dedicated Kibo site is here. ®